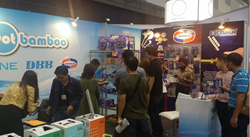 Quality Tools That Go To Work With You®
Bangkok, Thailand (PRWEB) September 27, 2017
Uniweld's authorized distributor in Thailand, Dot Bamboo (Bangkok) Co., Ltd was present at this year's edition of the R-HVAC Expo in Bangkok. Dot Bamboo, was established in 1975, and has been supplying refrigerants under the "FORANE®" brand over the past 40 years in Thailand. Supplying refrigerant to key OEM's and contractors in Thailand, Uniweld products and tools are the perfect complement to Dot Bamboo's philosophy of providing total customer satisfaction by providing value-added products to their customers.
Richard Apodaca, Director – International with Uniweld, was present to welcome visitors to Dot Bamboo's booth. The commercial relationship between Uniweld and Dot Bamboo is in its infancy, nonetheless, big advancements have been made in introducing the Uniweld brand in Thailand. The number of visitors attracted to Dot Bamboo's booth and the Uniweld display increased significantly over the 2015 edition of the R-HVAC tradeshow.
The big attraction continued to be technicians taking on the EZ Turn Challenge. Uniweld's revolutionary EZ Turn™ Anti-Blowback hoses have a thrust bearing that reduces friction so the service hose can be easily connected to access fittings while under pressure without the loss of refrigerant, and without the risk of suffering finger burns from the refrigerant. Also garnering much attention was Uniweld's Award Winning NitroVue NV1, which simplifies the purging process, as well as compliments the brazing process to eliminate internal oxidation of copper tubes.
Uniweld Products, Inc. has manufactured quality welding and cutting equipment at its factory located in Fort Lauderdale, Florida U.S.A. since 1949. Refrigeration manifolds & hoses, vacuum pumps, tubing tools, nitrogen kits, cutting torches, welding handles, cutting attachments, pressure regulators, pressure gauges, cutting tips and welding tips are among the products manufactured at Uniweld's factory in Fort Lauderdale. Uniweld... "Quality Tools That Go To Work With You®."