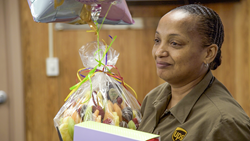 Every mom deserves to be honored and celebrated on Mother's Day. These women work so hard to make sure everyone else gets their gifts on time. This year, we wanted to return the favor.
WALLINGFORD, CT (PRWEB) May 11, 2017
Two companies honored some special women ahead of Mother's Day by surprising them with a sweet treat of their own. On May 10th, Edible Arrangements® partnered with UPS to surprise UPS delivery drivers and other employees with Edible Arrangements® fruit bouquets at more than a dozen UPS centers across the country, including:
UPS San Ramon Center in San Ramon, CA
UPS Indiana Center in Indiana, PA
UPS Fulton Center in Atlanta, GA
UPS CACH Facility in Hodgkins, IL
The women who received these special gifts go above and beyond as mothers and as UPS drivers. Sue Ballas in Pennsylvania was a single mother who learned how to drive a manual transmission in order to support her family as a UPS driver. She's now in UPS's Circle of Honor, a program recognizing drivers who have not had an avoidable accident for 25 years or more. Caroline Ledet in Atlanta is a mother of three and maintains an outstanding work ethic, even as she deals with the challenges of raising a young child with special needs. Barbara Hatch in California works around a long commute because she knows the value of a good job in supporting her five children. Sabrina Montgomery in Chicago is dedicated to helping other moms by volunteering at a local battered women's shelter.
Edible Arrangements® understands how important moms are. The Founder and CEO, Tariq Farid, credits his mom with the success of his company. That's why Edible Arrangements® and UPS wanted to make this Mother's Day extra special for these four women who make the holidays special for hundreds of others year after year.
"Every mom deserves to be honored and celebrated on Mother's Day. These women work so hard to make sure everyone else gets their gifts on time. This year, we wanted to return the favor and thank them for all they do," said Farid.
Mother's Day is one of the busiest days of the year for Edible Arrangements®. The company hires thousands of seasonal workers across the country to keep up with the demand of same-day hand delivery from over 1,200 plus store locations, and with the help of its partner, UPS, next-day delivery to more remote areas of the country. Edible Arrangements® stands alone as the first company to create fruit bouquets and only uses 100% fresh, never frozen, locally sourced fruit in all their menu items, which brings people back to its stores time and time again.
About Edible Arrangements®:
With more than 1,300 franchise locations open or under development worldwide, Edible Arrangements International, LLC is the world's largest franchisor of shops offering creatively designed, fresh-cut fruit arrangements. Edible Arrangements® store locations also carry the company's rapidly expanding Edible To Go® line, which features all-natural, fresh fruit smoothies, chocolate Dipped Fruit™, Froyo Fruit Blends™, fresh fruit salads, parfaits and treats. Since its founding in 1999 in East Haven, Conn., the company has been recognized as an industry leader, ranking first in its category in Entrepreneur Magazine's annual "Franchise 500," Entrepreneur's Top 40 of "Fastest Growing Franchises" and "America's Top Global Franchises," as well as being included among the "Inc. 5000" list of the fastest growing, privately-held companies. Edible Arrangements®' fresh fruit arrangements, chocolate Dipped Fruit™, fresh fruit smoothies and more can be enjoyed at franchise locations worldwide. Gifts can be ordered online at edible.com, by phone at 1-877- DO-FRUIT ® or through any local Edible Arrangements® store.
Learn more at edible.com.