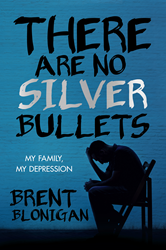 As an incredibly successful businessman, Blonigan is opening up an important dialogue that reveals CEOs, entrepreneurs and business owners suffer from depression too. Success is not a safeguard against these types of struggles.
Dallas, TX (PRWEB) June 15, 2017
Milli Brown, founder and CEO of Brown Books Publishing Group is proud to announce the publication of Brent Blonigan's memoir, titled There Are No Silver Bullets: My Family, My Depression.
In this deeply personal memoir, successful businessman and entrepreneur Brent Blonigan recounts his lifelong battle with depression. Through self-reflection and personal anecdotes, he examines the impact family, culture, religion and society have had on his life – and evaluates their impact on who he is today. From his complicated relationships with both his mother and father, to high school shenanigans and trying to fit in, to the corruption found in the churches and schools in his small Minnesota town that shook the foundation of his Catholic upbringing, Blonigan offers an unexpected inside view of how the puzzle pieces of his past helped him come to terms with who he is today.
There Are No Silver Bullets sheds light on one man's depression. Blonigan has never told his story in full until now. However, he understands the value for both he and his readers in sharing his story about depression. While he still finds it difficult to talk about his feelings and experiences, he now shares what he has learned in the hopes it will help others. Reflective questions at the end of each chapter offer self-examination as a tool readers can use to consider the internal and external influences that may have contributed to their own emotional reality.
"This book is a source of hope and comfort to those fighting the demons of depression by revealing that they are not alone," says Brown. "As an incredibly successful businessman, Blonigan is opening up an important dialogue that reveals CEOs, entrepreneurs and business owners suffer from depression too. Success is not a safeguard against these types of struggles."
"Depression is a very real subject," says Blonigan. "But there are no silver bullets. There is no magic solution that will make your problem go away in one fell swoop. Rather than looking for silver bullets, I would like to see more emphasis put on sharing the narratives of those who are afflicted – narratives like the one in my book. I hope it encourages people to share their stories as well and continue this conversation."
For more information, please visit http://www.BrentBloniganBooks.com
About The Agency at Brown Books (ABB)
As a sister company of Brown Books Publishing Group, The Agency at Brown Books is backed by more than 20 years of publishing excellence, leveraged in the first full-service public relations, marketing, branding and distribution provider within a publishing house. The Agency provides high-level public relations, marketing and distribution services for not only Brown Books authors, but also non-affiliated authors, all within the same house. For more information, please visit http://www.TheAgencyatBB.com
About Brown Books Publishing Group (BBPG)
Founded in 1994 as an Entrepreneurial Publisher for Entrepreneurial Authors®, Brown Books Publishing Group was established to fill a need in the publishing world by allowing authors to have a voice in the publishing process while retaining the rights to their intellectual property. Applying this innovative Relationship Publishing™ model, Brown Books has cultivated a prestigious stable of authors, from New York Times bestsellers to Pulitzer Prize winners and more. Boasting hundreds of high-quality books across genres, Brown Books is a fiercely independent publisher that encourages author empowerment. In 1994, Brown Books ushered in A New Era in Publishing™, and more than two decades later, continues to be a successful innovative leader in the publishing industry. For more information, please visit http://www.BrownBooks.com