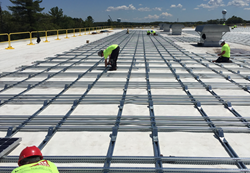 With our immense construction resources, we can staff a project immediately, cost effectively bring it to completion, and get investors on the road to returns
New Bedford, MA (PRWEB) May 12, 2017
Beaumont Solar, a leading full-service solar developer and Engineering, Procurement & Construction (EPC) Company, announced today their Beaumont "Big C" Services Unit. The rush to meet certain tax incentives and regulatory deadlines demands such a process that delivers on-time, on-budget performance. Additionally, state electrical board regulations requiring 1:1 or 3:2 electrician licensing ratios and the pressure to build to exacting standards with low cost yet high quality resources creates a demand for this approach.
The traditional route of hiring an EPC firm to build a large Commercial & Industrial (C&I) or utility scale solar project has built-in risk associated with it. This process becomes one where investors, developers, and system owners are reliant on the EPC which then hires subcontractors to build the project. Those same subcontractors hire workers from labor pools, job boards, and out of work electricians for short term contracts. Essentially, the owner never knows, in advance, who will be building the project. This is referred to in the industry as the "Little C" of EPC. The result is that corners get cut, 1:1 ratios become lax, quality is random, safety is never first, and jobs get delayed or just shut down by wiring and safety inspectors. Ultimately, when a job does not go right, the owner then interacts at the lowest levels to solve problems, as the liquidated damages often built into contracts, are not enough to offset the costs that are incurred when deadlines are missed. This was in full view in 2016 leading up to ITC deadlines and Massachusetts DOER deadlines of January 8th and May 8th of 2017.
To solve this problem and meet the demand, Beaumont Solar is offering "Big C" services to partners, investors, developers, and system owners. The Big C is a big construction services business unit that the company has developed through our scalable business model. The services are not labor for hire, rather a contract between the project developer or owner and Beaumont Solar to construct the project with Beaumont accountable for all workmanship warranties. Our Big C services unit directly employs OSHA certified, CORI checked, drug tested, and licensed electricians and apprentices. These employees have no smoking, no cell phone/texting, attendance, and safety requirements within their employment contracts. All headcount is specified and accounted for at the start of any job ensuring consistency and continuity of the project schedule. As a full-range EPC, the Big C services can be expanded to include design, engineering, construction drawings, and procurement.
At the start, the service offering will have the capacity to operate at the rate of 20MW per quarter. Beaumont Big C services compares favorably with any open shop on price, and it will excel on construction schedule and provide the highest quality standards in the industry due to the skill levels and vertical integration of our self-performing team. A recent survey published by the National Association of Home Builders (NAHB) reports a shortage of construction workers. The report goes on to say that 56% of builders report a serious labor shortage and 75% of builders say they've had to pay higher wages. This has spilled over into the commercial construction and electrical industry as well. The lack of supply has resulted in higher construction labor costs, with Massachusetts having the highest increase in 2016 followed by New York and Washington, DC.
"The bottom line is that financial returns don't begin until the system is operational, and any missed incentive deadlines causes a sizable negative impact on those returns. So, it's critical to streamline the entire construction process by utilizing a company that not only offers the whole DC/AC voltage and medium voltage package, but has the electrical expertise and bandwidth to actually pull it off at competitive rates," said Phillip Cavallo, President and CEO of Beaumont Solar. "By leveraging the strength of our "Big C" construction services, we are able to consistently supply this demand."
A key element to the company's sizable construction resources are the aligned employment agreements with local IBEW members to provide scalability, guaranteed construction and workmanship at predictable costs. System owners gain peace of mind knowing their system is being implemented by highly trained and licensed Beaumont Solar employed journeymen and apprentices that are always at ratio (based on state licensing requirements). There is never any question of accountability and no risks of work stoppages or delays to the project.
More importantly, safety and quality control are never overlooked. Electrical foremen conduct daily "toolbox" safety meetings and inspections of installation workmanship. As part of quality standards, the QC team completes design compliance inspections, IV curve tracing, torque testing, megger testing, and a final site inspection to ensure, all construction debris is removed and the site is left clean.
"The proper execution of a solar project requires a cohesive project flow that only a Big C-type company can provide. It's skill and timing," said Cavallo. "The skill to perform high quality, cost efficient construction, and the timing to be able to scale your workforce up or down without delay, and to work skillfully with the utilities, to get the project done on time and achieve the end goal of the customer."
As a company, Beaumont Solar differentiated itself years ago with a baseline business model that continues today of directly employing an in-house staff of engineers, designers, project managers, construction managers and a high quality, skilled installation team. The company has proven to consistently meet incentive regulatory deadlines and constructs high-performing solar systems for customers through this cohesive, vertically integrated approach. "It's that same vertical integration that enables us to understand the construction phase and execute it with precision. With our immense construction resources, we can staff a project immediately, cost effectively bring it to completion, and get investors on the road to returns."
About Beaumont Solar
Beaumont Solar is a leading, full-service solar developer and Engineering, Procurement & Construction (EPC) company. We specialize in the development, design, building and long-term operation & maintenance (O&M) of solar systems in the commercial & industrial (C&I), utility, agriculture and public sectors. With a long history dating back to 1918, we have the experience, infrastructure and expertise to help maximize the value of underutilized assets (rooftop, carport, landfills, hazmat sites, and land). We help structure financing; both debt and tax equity, provide off-taker power agreements and ground or rooftop leases and determine site feasibility. Beaumont works closely with customers to help them meet financial, energy and sustainability goals by identifying the most efficient systems and cost effective financing. With offices in MA, RI, and NJ, we provide installation and support across the USA. To learn more, please visit http://www.beaumontsolarco.com.