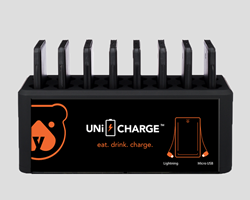 With UNiCHARGE, businesses can offer their patrons a convenient way to quick charge their devices tableside," said Yatra founder Roy Sharda
(PRWEB) May 17, 2017
Yatra will be unveiling their latest B2B creation--the UNiCHARGE™--at the National Restaurant Association's yearly expo in Chicago, Illinois from May 20-23.
The technology-driven lifestyle brand has created a robust, universal charging platform designed for restaurants, bars, golf courses, and more who want to give their clientele a full-service experience.
"How many times have you been out to dinner or meeting friends and your phone dies?" said Yatra founder Roy Sharda. "With UNiCHARGE, businesses can offer their patrons a convenient way to quick charge their devices tableside."
UNiCHARGE™ Benefits:
 • Custom Branding Options – Companies can fully customize and display their own logos, names, and designs, as every UNiCHARGE™ comes backlit, illuminating your brand!
 • Compact – Each charging box contains 8 ultra-slim power banks that easily fit on countertops or host stands.
 • Universal – Each power bank comes with built-in detachable Lightning and Micro USB cables, individually equipped with USB ports that allow users to not only charge, but to independently connect to their other devices!
 • Convenient – Now guests are drawn to your brand, and the environment you are providing to them, as every UNiCHARGE™ is fully adaptable, eliminating the need to spend time looking for open outlets, keeping customers in-house.
 • Quick Charge – UNiCHARGE™ power banks are equipped with 8 total, 4000mAh lithium polymer batteries, that can power any smart device from 0-70% in less than 30 minutes.
 • Theft Protected – Each charging station uses Luna Pulse Technology, in combination with GPS technology, to charge each individual battery, meaning each power bank can only be charged by the base station.
Chicago's premier restaurants were among the first to provide the UNiCHARGE™ technology to their clientele; including Chicago Cut Steakhouse, Prime and Provisions, Gibson's, and Tavern on Rush.
Chicago Cut Steakhouse Managing Partner David Flom stated "UNiCHARGE solves the charging problems of establishments and customers alike. It's the best solution I have seen and it works great."
The UNiCHARGE™ charging system is gaining National recognition. The restaurant and lounge market in Las Vegas, New York City and other major cities are enhancing the experience and technology needs of their clientele.
To learn more, visit Yatra at Booth #10818.
For additional information, visit https://vimeo.com/shopyatra/uni-charge or contact brooke(at)veteranpr(dot)com.