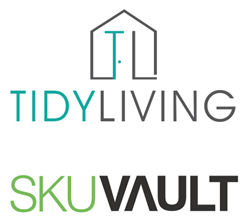 SkuVault is the solution we needed to grow while balancing the maximizing of sales and safeguarding the customer experience by not overselling.
Ontario, California (PRWEB) June 21, 2017
Tidy Living is excited to announce that it has partnered with SkuVault to allow for a faster ramp-up of business with plans to further expand warehouse operations across the US and Canada. Since officially launching online March 1st this year, Tidy Living has already fulfilled over 6,500 orders, with demand increasing. Tidy Living intends to double its online product catalogue in June, which includes an expansion into kitchen and bathroom organization products.
Tidy Living currently offers its products for sale on TidyLiving.com, Ebay, Amazon, Walmart, Groupon, Houzz, Bonanza and has a backlog of websites in the US, Canada, and even Europe that have approached Tidy Living about selling through them in 2017. With quick customer adoption and business complexity, Tidy Living reviewed technology solutions to allow it to set the foundation for the next phase of its growth and selected SkuVault due to their capabilities.
"It's apparent that SkuVault is a solution designed by operators to meet the needs of the sales team. SkuVault's inventory management capability across multiple sales channels, warehouses, dynamic kitting and replenishment is crucial for us. Tidy Living will be adding a second warehouse in the US and one in Canada, as well as increasing our product assortment from 100 items to 1,000. SkuVault is the solution we needed to grow while balancing the maximizing of sales and safeguarding the customer experience by not overselling," explained Tim Mayeur, COO of Tidy Living.
SkuVault's mission is empowering eCommerce retailers to optimize operations so that they can scale and compete in the growing eCommerce market. This mission is throughout their culture and the basis for the warehouse management technology platform they have built.
"We love helping companies streamline their processes that are facing the pains of accelerated growth, so they can focus on scaling to their next milestone. We look forward to a long and successful partnership with Tidy Living," said Danny Shaw, Director of Business Development at SkuVault.
About Tidy Living
Based in Ontario, California, Tidy Living is a leading supplier and manufacturer of organizational products for the home. The company has been producing products for organizing personal spaces in the home and supplying them to retailers since 2005, but has just recently launched its online division. Customers in the US and Canada will have access to laundry accessories, garment care, organization tools and home storage that is designed to make their lives easier and less stressful.
About SkuVault
SkuVault is an inventory & warehouse management system that integrates with ChannelAdvisor, ShipWorks, Amazon, Bigcommerce, ShipStation, eBay, Shopify, and more, and is complete with barcoding and jam-packed with other cool features to help eCommerce retailers prevent out-of-stocks, improve warehouse efficiency, and reduce human error.