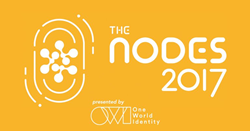 To be named a trailblazer in the identity industry validates everything the company has accomplished thus far.
Mclean, VA (PRWEB) May 18, 2017
The first annual K(NO)W Nodes 2017 Awards Show honored ID.me with the Trailblazer award on May 16th at the K(NO)W Identity Conference.
The Trailblazer award celebrates the organization that has implemented the most "unique and unconventional" solution to an existing identity challenge. To be a true trailblazer, the company must push boundaries and accomplish what industry insiders once considered impossible. ID.me earned the award for creating federated identity verification solutions that increase access to online services and benefits without sacrificing security.
Five experts from within the identity industry--including Pascal Bouvier of Santander InnoVentures, Karen Gifford of One World Identity, Tom Hardjono of Connection Science, Peter O'Neil of FindBiometrics and Don Thibeau of OIX--judged the finalists for all ten Nodes Award categories. Their judging criteria included the impact, scope, security and sustainability of each company's innovations.
"We're proud to receive the first ever Trailblazer award at K(NO)W Identity," said Blake Hall, CEO and Co-Founder of ID.me. "ID.me's Identity Gateway makes it easy for users to remotely verify their identity online in order to increase access to important services, such as healthcare, government services and banking. To be named a trailblazer in the identity industry validates everything the company has accomplished thus far. ID.me is excited to continue to lead the industry forward."
ID.me was one of five companies nominated for the Trailblazer award. Other finalists for the award included MorphoTrust, Trulioo, IdentityMind Global and GOV.UK Verify.
Liron Gitig, a partner at FTV Capital who led a $19 million Series B investment for ID.me, also won Investor of the Year at the Nodes Awards.
Hosted by One World Identity, the K(NO)W Identity Conference brought thought leaders, innovators and investors from across the identity industry under one roof. The conference featured a bustling exhibition hall, a startup alley, a hackathon and a full agenda of panels and keynote speakers devoted to identity.
About ID.me
ID.me's Identity Gateway streamlines authentication, identity proofing and federation of external identity and attribute providers through a single API. By leveraging remote verification of government issued identity documents, MNO data, and attribute validation, ID.me's login attained accreditation from GSA's FICAM TFS program at Levels of Assurance 1, 2, and 3 against NIST 800-63-2 standards so that multiple federal agencies can trust a common login. The ID.me Identity Gateway includes a double-blinded credential broker and an attribute exchange to support federation of additional identity and attribute providers. ID.me's Identity Gateway supports over 200 relying parties including the VA, the State of Maine, Under Armour and MLB Advanced Media. For more information, click here.