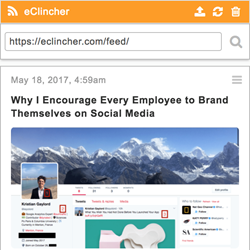 Palo Alto, CA (PRWEB) May 19, 2017
eClincher, a social media management software, announces today the release of a new feature to fully automate content publishing to social media networks from any connected RSS feed.
The new feature allows users to connect any RSS feed to eClincher and automatically publish fresh new content directly from their RSS feed to their social media accounts. For example, if users own a website hosted on WordPress platform, they can publish a new article or blog on their website, which will then automatically publish to their RSS feed and on all their social media accounts. This automation saves hours of work and improves brand recognition and website traffic generation.
eClincher's new feature is unique in that it is fully automated, allowing users to update their social media presence with new content as soon as it gets published on their website or RSS feed. This new RSS auto post feature will help social media marketers and bloggers to take advantage of consumers' demand for efficiency through six distinct features, which allow users to do the following:

Automatically publish content to social media networks
Publish new content to multiple profiles
Select a schedule on which to check RSS feeds for new content
Select the number of posts to publish when new content is found
Automatically prepend and append text to each message
Perform bulk actions once profiles are added
These features not only make distributing content easier, they also allow marketers to take control of the content's visibility to readers through the scheduling and post-number selecting capabilities. eClincher also enables marketers to create comprehensive analytics reports allowing them to evaluate progress and view engagement with their RSS-published posts.
"RSS feeds are used by millions around the world," said eClincher CEO and Founder Gilad Salamander. "Our new RSS auto post feature allows social media marketers and bloggers to tap into this trend. The capability for adding text to each post allows them to further their brand by personalizing the message readers receive."
About eClincher
eClincher is a social media management tool, co-founded by Gilad Salamander in 2013. Designed to manage social media presence, schedule, publish, engage, find and track social media interactions, eClincher offers premier value, efficiency and organization. For more information on eClincher, visit eclincher.com.