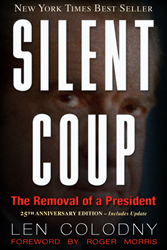 More than half of all American adults do not know what Watergate is all about. – Len Colodny
Walterville, OR (PRWEB) June 07, 2017
History paints a different picture: in a recently published USA today article Silent Coup was listed as one of the top books to read in order to learn more about the Watergate affair, which has its 45th anniversary this year.
Did you know about Bob Woodward's top secret job in the Nixon White House and his special relationship with General Alexander Haig?
To learn more, go to watergate.com where author Len Colodny has gathered and presented the most accurate documentation and proof of just how Watergate took its place in our National History. The site hosts the largest private collection of Watergate and Nixon related materials, including exclusive interviews with almost all the key players in the Watergate scandal.
Like this interview excerpt with JOHN DEAN.
The physical "Colodny Collection" is now housed at Texas A&M University.
It is all being digitized and one day will be available to all on line.
"COLODNY COLLECTION" at Texas A&M Link