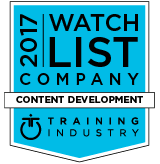 Designing Digitally is honored are honored to receive this award for the fifth consecutive year!
(PRWEB) May 22, 2017
Designing Digitally, Inc., a corporate training company focused on developing custom eLearning, Serious Games, Mobile Learning, and Training Simulations has been selected for the 2017 Top Content Development Watch List by Training Industry. Selection to the 2017 Content Development Companies Watch List was based on the following criteria:

Industry visibility, innovation and impact
Capability to develop and deliver multiple types of content
Company size and growth potential
Depth and breadth of subject matter expertise
Quality of clients
Geographic reach
"This year's Watch List includes an exciting group of companies pushing the development of new programs to deliver impactful improvements in employee performance. Each of these organizations has impressive capabilities that can improve employee learning in corporations around the world."
Andrew Hughes, President of Designing Digitally, Inc. said, "We are grateful for being selected, and the team at Designing Digitally, Inc. will continue evolve the training realm by create engaging, educational, and entertaining learning experiences for corporate training. This recognition is appreciated by our team, because it shows our dedication to creative learning experiences for our customers. We are honored to be selected for this award, and look forward to continuing to help innovate the training industry."
View the 2017 Content Development Companies Watch List
About Designing Digitally,Inc.
Designing Digitally, Inc. is an award winning corporation that specializes in creating educational, engaging, and entertaining learning experiences that incorporate innovation, creativity, and gamification to enhance learner retention. We offer a wide spectrum of custom online learning solutions that improve business practices, and processes for the largest brands in the world.
About Training Industry, Inc.
Training Industry spotlights the latest news, articles, case studies and best practices within the training industry, and publishes annual Top 20 and Watch List reports covering many sectors of interest to the corporate training function. Our focus is on helping dedicated businesses and training professionals get the information, insight and tools needed to more effectively manage the business of learning.