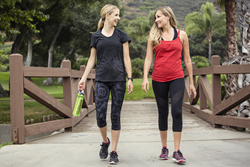 Littleton, Colorado (PRWEB) June 14, 2017
LifePaths Counseling Center is pleased to announce that they have added Walking the Talk Therapy© to the services they offer.
This type of therapy is taking the work you would normally do sitting face to face in an office, and instead being outside walking with your therapist at a location you choose. Denver has many beautiful trails and paths throughout the metro area and there are several to choose from near both of our offices.
Along with the obvious benefit of getting healthy exercise instead of sitting for the entire session time, people find the following benefits as well:

There is a meditative quality to walking that adds to a person's ability for introspection and insight
Walking is a bilateral activity and has been shown to allow for more creative solutions to problems and quicker processing of issues
Exercise reduces anxiety and depression and is a great coping skill
Walking is one of many self-care activities, so walking therapy is two forms of self-care at once!
Some people are more comfortable with talking side by side rather than face to face
Walking the Talk Therapy© is offered at both LifePaths locations: Littleton/Ken Caryl location and their DTC/Centennial location.
You can find more information about this service at https://www.lifepathscounseling.com/walk-talk-therapy/.
LifePaths Counseling Center is a full service counseling center providing individual, couples and family counseling to people of all ages. LifePaths also provides Executive Coaching services and workshops on various topics. The staff at LifePaths take pride in their high standards in continuing education, ethics, and caring attention to the needs of their clients. LifePaths has two Denver metro area locations in Colorado in the Littleton/Ken Caryl area and another in the DTC/Centennial area. You can find out more about LifePaths Counseling Center at https://www.lifepathscounseling.com.