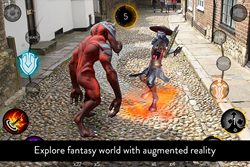 Auckland, New Zealand (PRWEB) June 08, 2017
Ambidexter, an international team of indie developers, has announced the soft-launch release of its flagship project – mobile AR RPG UnderVerse in New Zealand and Australia. UnderVerse is the first mobile game in the world that combines RPG genre, augmented reality, a global positioning system and a massive online-multiplayer mode. The game will be available in the NZ AppStore on June, 8 in soft-launch mode, and Australian gamers will be able to download UnderVerse in the ending of June. After collecting feedback and reports in the Australia and New Zealand, Ambidexter will release its flagship project globally.
In the game, players will have to unite and repel a demonic incursion from the otherworld, which has targeted the largest cities on the Earth. A mobile detector of "demonic presence" is the key tool in the fight against the hordes of invaders. With smartphones, players can reveal the infernal creatures on the streets of their city. The choice of New Zealand and Australia was driven by the desire to test the game in a relatively small but rich English-speaking market with a demanding, thoughtful and able audience. The major New Zealand media holding company has already purchased 10% shares of Ambidexter for $300 000 USD.
"New Zealand was chosen as the site for the soft-launch of our flagship project for many factors. On one hand, this country is a small microcosm of the USA or the U.K. markets. On the other hand, there are a lot of gamers with Asian roots. Therefore we will have the opportunity to receive informative and relevant feedback before the Asian release. Moreover, we have a lot of surprises for NZ gamers including unique demons that live only in the vicinity of Auckland Sky Tower and the sulfur lakes of Rotorua," according to Ambidexter CEO & founder Michael Chapiro.
Mobile AR MMORPG is being developed for smartphones and tablets on iOS and Android platforms. The owners of Apple gadgets will be the first to see the project. The Android version of the game will be available in the near future.
Key features of UnderVerse:

A hybrid game of the top popular genres: RPG, strategy, action, as well as an AR and GPS-mode;
PVP and PVE fights in Augmented Reality;
Turn-based combat system;
Full GPS navigation with events and points in the game located on a route and GPS map, along with fantasy elements;
Own unique solution for the non-markup construction of augmented reality;
Completely implemented classic RPG mechanics, transferred to mobile platforms;
MMORPG with several ways for character development.
About Ambidexter game studio:
Ambidexter is the young and ambitious team of international and multicultural developers established in 2016. Ambidexter head office is located in Moscow, Russia. Currently, the flagship project of the company – AR RPG UnderVerse has reached its goal on Kickstarter.