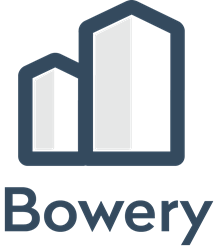 New York, NY (PRWEB) May 23, 2017
Bowery, the first truly tech-enabled commercial appraisal firm, recently closed a $1.75 million seed investment from a group of top real estate owners and VCs. The Bowery team has been developing the preeminent software in the commercial appraisal industry for the past two years and officially launched its appraisal business on May 1st.
Co-CEOs John Meadows and Noah Isaacs both came from Leitner Group, one of New York's top appraisal firms, where they learned the ins and outs of the industry while also experiencing the pains of its inefficiencies firsthand. Bowery's technology team of seven software engineers is led by two Princeton grads with extensive startup experience, including third co-founder and CTO Cesar Devers. It recently brought on a former Vice President from CBRE as COO and Chief Appraiser, a major milestone for the company.
"This round of funding will allow us to continue to grow our tech and appraisal teams with the brightest in the industry," explained Meadows and Isaacs. "With over 20 years of commercial real estate experience across our executive team, we fully understand the pain points from this process for appraisers, lenders, and property owners. We are committed to leading the new technology wave in this space and creating a truly unique commercial appraisal firm. We now have the resources to continue to redefine the cutting edge in this industry that has failed to evolve technologically in any meaningful way."
Bowery is the world's first venture backed commercial appraisal firm. Powered by big data, advanced technology, and extensive expertise, Bowery is reinventing the entire commercial appraisal space. In a graying industry, in which 62 percent of appraisers are over the age of 50, Bowery is the first company to truly modernize the process, taking appraising out of dated excel sheets and into a powerful cloud based platform. By eliminating the pervasive administrative work, Bowery's proprietary software allows its appraisers to produce more consistent reports, faster and at lower cost, than anyone in the industry.
"Bowery has created a technology that will fundamentally change the way appraisals are done," stated Jake Fingert, Managing Director of Camber Creek. "Bowery is revolutionizing a slow, paper-heavy process that is at the core of real estate transactions. It has the unique ability to produce unrivaled consistency, quality, and data accuracy."
Jeffrey Berman, a Director at Camber Creek and VP of Berman Enterprises (an affiliate of Camber Creek), continued, "Bowery will succeed because of its distinct 'software-first' approach in an sector that is ripe for disruption, the founders' passion and energy, and the strength of the team."
About Bowery
Bowery powers its appraisers with a cloud based commercial appraisal writing software and mobile application, allowing them to write full appraisal reports more than twice as fast as its leading competitors. Its powerful backend database and natural language generator create increased efficiency, quality, and consistency firm-wide. Further, extensive data collection and integration allows Bowery to reframe what the appraisal actually provides to its clients. Bowery's underlying tech yields unprecedented product offerings in one of the most antiquated sectors of the real estate industry. For more information visit http://www.boweryres.com