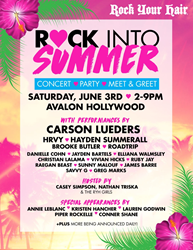 Are YOU Ready To Rock Into Summer?
Hollywood, California (PRWEB) May 23, 2017
On Saturday, June 3rd hundreds of young celebs and social media stars will rock into summer at the historic Avalon Hollywood. The event is sponsored by "Rock Your Hair" and "Fresh Brothers Pizza" and will be hosted by Nickelodeon star Casey Simpson, HRVY and You Tube Sensation Nathan Triska. Featured performers Carson Leuders,  Annie LeBlanc, Road Trip, Brooke Butler and Hayden Summerall will be rockin' the stage along with many other talented singers and dancers, including: Jayden Bartels, Danielle Cohn, Lauren Godwin, Elliana Walmsley, Christian Lalama, Vivian Hicks, Ruby Jay, Kristen Hancher, Lucki Starr,  Piper Rockelle, Raegan Beast, Case Walker, Sunny Malouf AND MANY MORE. Tickets are available HERE.