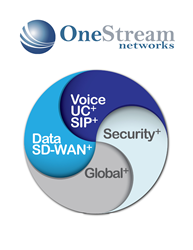 Rochester, NY (PRWEB) May 23, 2017
OneStream Networks, a leading global managed communications service provider, today announced that it has expanded its global management team with the addition of Jay Guagliardo as Director of Marketing. Jay will be responsible for all OneStream marketing programs and strategy including brand management, customer and partner marketing, and social media engagement in support of OneStream's global cloud-based SIP, unified communications, SD-WAN, and security services.
Jay is a 20+ year executive leader with success in all telecommunications industries, including marketing and sales, new business development, product development and operations. At Time Warner Cable, Jay held a variety of leadership positions ranging from the VP/General Manager of VoIP Digital Phone, VP of Marketing, National Director of ISP Operations, and Regional Senior Director of Marketing and Sales Channel Development. While VP of Marketing with Time Warner, Jay was awarded the Time Warner Cable Golden Truffle Award, Time Warner's top marketing honor for excellence in marketing and greatest subscriber growth.
"Jay's proven track record in marketing, product development and operations is a great fit to help us build our brand and to drive growth in our national and international customer channels," said Brian D. Skidmore, OneStream Networks' Chief Sales and Marketing Officer. "Jay brings significant insight and experience that will be leveraged to help accelerate our growth."
About OneStream Networks
OneStream Networks is purpose-built for enterprise-grade cloud-based SIP trunking, unified communications, contact center services, data networking and security services. With availability in 100+ countries, global strategic peering networks, geo-redundant POPs and multi-provider SD-WAN and MPLS transport options, OneStream delivers unparalleled scope and reach for advanced cloud-based voice, UC, data and security. OneStream has become the standard for enterprise customers, VARs, and agents looking to create cost-savings, consolidation, vendor reduction and simplified management for single site and multi-site, multi-national applications. For more information, visit http://www.onestreamnetworks.com.