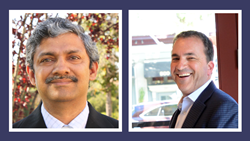 The only way to disrupt technology is to approach customer problem from solution lens and with our leadership additions we want to continue focusing on providing solutions to our customers and keep investing in building more innovative solutions
San Francisco, CA (PRWEB) May 25, 2017
Clovity Inc. (http://www.clovity.com), leading IoT, Cloud, Big Data, Digital solution company is pleased to announce the appointment of Jim McDonnell, former Senior Executive & General Manager at Cisco to its advisory board. The second major appointment is of Srinivasan Rangarajan, former Senior Director of Engineering at a leading IoT company to head Clovity's Solutions Group. Srinivasan will be leading Clovity's Solutions Group focused on next generation technology in Cloud, Big Data and IoT convergence as well expansion of Clovity's IoT CSensorNet platform.
"We are very delighted and fortunate to have Jim McDonnell join us in our advisory board and this further strengthens our investments and growth plans in IoT, Cloud and next generation microservices architecture project initiatives which several North American enterprises are embarking on. Jim's mentorship will truly help us to be the market leader and top IoT and Cloud solutions provider" said Clovity's CEO Anuj Sachdeva.
Anuj further added, "the only way to disrupt technology services market is to approach customer problem from solution lens and with Srinivasan's addition we want to continue focusing on providing solutions to our customers and keep investing in building more innovative solutions focused on next generation enterprise growth."
Jim who holds 4 patents and has built and led several cloud and IoT businesses will help Clovity expand its leadership footprint in IoT and Cloud as they go through next phase of enterprise customer adoption and engagement. As a renowned executive who has helped multiple organizations differentiate in today's competitive markets, Jim added, "I believe that Clovity with its strong pedigree, robust set of solutions and capabilities, deep Silicon Valley presence, unique Agile Model: Synthesis, is well positioned to help clients identify areas of transformation and bring them to reality, very quickly."
In addition to being an executive of several Fortune 500 and next generation companies, Jim also currently holds advisory positions on multiple technology start-ups and healthcare ventures and is an active member of several leading industry sourcing advisory groups.
Srinivasan has led and built large successful technology teams which has resulted in achieving significant velocity in bringing next generation solutions in the areas of Big Data and IoT leveraging both private and public cloud platform backbones. At Clovity, he will be responsible for leading the charge of Clovity's customer transformations, leading strategic solution initiatives and expansion of Clovity's IoT platform. Srinivasan commented, "I am excited to embark on this fascinating journey with Clovity and look forward to deepening existing relationships, expanding the geographical footprint and building new partnerships. I am fortunate to join a very motivated team that challenges the status-quo and redefines Cloud and maximizes leverage of IoT in Banking, Retail and Healthcare arena."
For more information about Clovity visit: http://www.clovity.com. For media inquiries, contact Natalie at marketing(at)clovity(dot)com or 925-264-6360
   
About Clovity
Clovity's cognitive strength lies in the amalgamation of two powerful ideas - collaboration and transformity. Clovity emphasizes on combining thought leadership, innovation and passion for technology together to achieve successful transformation and 'disruptive solutions' for Banking Finance, Healthcare and Retail industries that are IoT, Cloud, Consumerization and Big Data' focused.
Clovity's commitment to innovation has led to many Plug and Play solutions and frameworks in IoT (CSensorNet), Predictive Analytics, DevOps, Mobility etc. that enables customers for faster time to market product launches.
Clovity underpins its solutions with 'deep Agile expertise' by leveraging its Agile Framework: Synthesis in every aspect of customer journey to ensure complete collaboration and transparency. Clovity key is to work in absolute synchrony with customers to deliver solutions and projects to create scalable technology foundation and architecture for all future advancements.