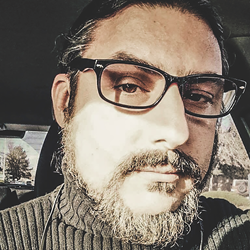 Ajay Menendez, a 30-year IT veteran, takes the helm at SecureSet Academy's new Blake St. campus in Denver.
DENVER, Colo. (PRWEB) May 23, 2017
SecureSet Academy today announced that Ajay Menendez, a 30-year IT veteran, has been named campus director as the Academy moves to its new location at 2228 Blake St. in Denver.
The move creates room for programs to grow as the Academy seeks to prove its immersive model for addressing the dangerous shortage of cybersecurity professionals who are required to meet growing threats to both the US private and public sectors.
Menendez — an information security professional, instructor and security evangelist — will oversee the enrollment, education and employment of Denver's SecureSet students. He draws upon experience that includes DARPA (Defense Advanced Research Projects Agency) projects and lifesaving field technology for hospitals in the wake of the 2010 Haitian earthquake.
He will also oversee the kickoff of the Denver campus' Hunt Analyst Bootcamp, a new offering that opens the cybersecurity field to aspirants with non-technical backgrounds. The new location will also house classes for the CORE Technical Bootcamp program — the Academy's other immersive education offering — as well as certifications, meetups and seminars.
"There are approximately 325,000 unfilled cybersecurity positions in the US right now," said Academy founder Bret Fund. "Denver is our central proving ground for leveraging our hiring partner network and faculty expertise to teach the world how to meet the demand for environment-ready professionals. Having Ajay in place in the new campus will be a boon."
SecureSet Academy expanded to Colorado Springs in December 2016 and will open its Tampa campus this year.
About SecureSet Academy
SecureSet Academy offers the first bootcamp-style, comprehensive cybersecurity education program in the U.S. — and the fastest route to entry-level careers in the field. The Academy was launched in response to the global shortfall of cybersecurity professionals who will be needed to meet the rise in sophisticated threats worldwide.
SecureSet Academy compresses the time required to achieve necessary skills and certifications from years to months. This intense, hands-on education ensures skills that are immediately applicable in working cybersecurity environments — 100% of the program's graduates have received job offers to date. SecureSet Academy has campuses in Denver, Colorado Springs, and will soon launch in Tampa. For more information, please visit http://www.securesetacademy.com.
For more information please contact:
Nate Warren
720.244.4734
media(at)secureset(dot)com