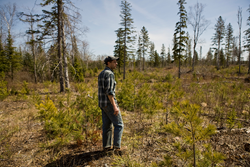 "One of the goals of the project is to really shift people's thinking ...planting for diversity can enhance the adaptability of conifer strongholds." - Meredith Cornett, The Nature Conservancy
MINNEAPOLIS, Minnesota (PRWEB) May 24, 2017
The Nature Conservancy announced today that it is planting native spruce, pine, and tamarack trees this year and next to help ensure conifers endure in Minnesota's Northwoods.
By carefully selecting its sites, the Conservancy plans to create "conifer strongholds" where the native trees can thrive even under the warmer, drier conditions projected for the Great Lakes Region.
A diverse mix of the iconic trees once made up 70 percent of northeast Minnesota's forestland, but today conifers constitute about half that number.
"These conifers really dominated in most of northeastern Minnesota," says Meredith Cornett, science director for the Conservancy in Minnesota, North Dakota, and South Dakota. "If we tried to restore them everywhere they once were, we don't think it would be a successful or sustainable strategy." So, the Conservancy will be planting in "conifer strongholds"—areas of diverse topography (such as hills and wetlands) that have been historically cooler or are warming less rapidly than much of northern Minnesota.
By doing so, the Conservancy hopes northern conifers such as white pine, jack pine, white spruce, tamarack and white cedar continue to thrive despite a regional climate that scientists predict will be both warmer and wetter, but with a drier summer growing season.
The Conservancy's project is called Conifer Strongholds in a Changing Northwoods Landscape. The work is supported by a grant from the Wildlife Conservation Society through its Climate Adaptation Fund. The fund was created by a grant from the Doris Duke Charitable Foundation.
The Wildlife Conservation Society chose to support the work on the strength of work the Conservancy has already done to help northern Minnesota forests adapt to a changing climate.
"We looked at who we were going to invest in, and The Nature Conservancy has had great success in protecting and restoring Minnesota's forests," says Darren Long, program director for the Climate Adaptation Fund. "That's a real factor for any funder—their reputation and the quality of their work."
The Conservancy has enlisted the help of several other partners, including the Sustainable Forests Education Cooperative at the University of Minnesota, which is advising the Conservancy, and the Wildlife Conservation Society.
"We are really interested in this project," says Eli Sagor, Sustainable Forests Education Cooperative manager. "The work is very focused on looking at the future of North Shore forests and being proactive about identifying opportunities to conserve native species, to conserve native ecosystems, and to think a little bit differently in a forward-looking way about what we need to do now to maintain forest health and productivity into the future."
Keeping conifers in the forest will pay dividends in Minnesota. Diverse forests are expected to be more resilient, better able to adjust and remain healthy in a changing climate. Abundant conifers support a wide range of native species of wildlife including migratory songbirds, great gray owls and moose. Conifers are valuable to the forest industry as pulpwood and sawlogs. Finally, stands of conifers proclaim northern Minnesota to residents and undergird state pride and tourism.
"When you look at northern Minnesota, you don't think of oak and maple trees," says Sagor. "You think about spruce and pine, the iconic giant red pines and white pines."
The decline of conifers has been decades in the making. "The motivation for a lot of work in northeastern Minnesota historically has been the widespread loss of long-lived conifers due to historic logging, limited restoration efforts and overbrowsing by deer," says Cornett, adding that the work in Minnesota could be a model for saving conifers in Michigan, Wisconsin and Canada.
Forests are now dominated by even-aged stands of aspen with fewer pine, spruce, and fir. Conifer-dependent wildlife, especially some migratory songbirds, have declined as a result.
The solution is more complicated than just planting more conifers. That's because climate change is expected to raise mean annual temperatures in northeastern Minnesota from 2 degrees to 10 degrees Fahrenheit over the next 50 years. Such a climate favors a leafy hardwood forest and threatens the prevalence of black spruce, tamarack, red pine, and balsam fir.
Although the Northwoods may see widespread shifts to broad-leafed species like oaks and maples, big conifers aren't necessarily doomed, says Cornett. Despite a warming climate, Conservancy scientists are convinced conifers can survive —even thrive — in a few select areas. "So we want to identify those places and focus our restoration efforts there," she says.
These conifer strongholds have three overlapping qualities.
First, they are cooler than surrounding areas or are warming less rapidly. These cool sites may be small — such as north-facing slopes. Or they may be areas of many square miles that have been historically cooler because of the surrounding topography.
Second, these strongholds are diverse geologically and biologically. These areas were identified in the Conservancy's ongoing work to identify landscape features that support a diversity of plants and animals in the present, and are expected to support the greatest diversity in the future, even though the species may change over time.
Third, they have "connectivity"—they are surrounded by natural areas that are suitable for the regeneration and spread of conifers.
By combining these qualities, the Conservancy has identified many of the areas where conifers are most likely to flourish in the decades ahead.
The Conservancy has selected about 30 stronghold sites for planting this spring. They are on recently harvested public land, ranging from about 5 to 70 acres, says Mark White, forest ecologist for the Conservancy in Minnesota. The Conservancy is planting 50,000 seedlings on conifer strongholds this year and 50,000 more next year.
Most sites will receive a mixture of conifer species. "One of the goals of the project is to really shift people's thinking about conifer planting practices from single species to mixtures of three or more. Planting for diversity can enhance the adaptability of conifer strongholds," says Cornett.
In addition to the Wildlife Conservation Society, partners in the project include the U.S. Forest Service, Minnesota Department of Natural Resources, the Minnesota Environmental Fund, Minnesota's Outdoor Heritage Fund, Minnesota's Lake Superior Coastal Program, Conservation Partners Legacy, Scrooby Foundation, Minnesota Moose Habitat Collaborative, the Minnesota Forest Resources Council Northeast Landscape Committee, the Manitou Collaborative, the Northern Institute of Applied Climate Science, and the University of Minnesota.
"Focusing our conifer plantings on sites where they're most likely to be successful is a good investment strategy. If we can target the places where they can survive long term, we'll make the best use of our time and resources," says Cornett.
The Nature Conservancy is a leading conservation organization working around the world to protect ecologically important lands and waters for nature and people. The Conservancy and its more than 1 million members have protected nearly 120 million acres worldwide. In Minnesota, the Conservancy has helped protect more than 690,000 acres since 1958. Visit The Nature Conservancy on the Web at nature.org/minnesota.