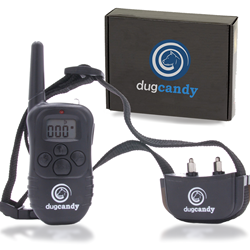 Train your dog with peace of mind.
New Jersey (PRWEB) June 12, 2017
Looking for the perfect way to train dog or puppy in a sleek and stylish way? Then look no further than the remote control dog training collar by DugCandy.
This dog shock collar is the perfect solution to stop dogs from barking loud, chewing on things around the house and biting something, both indoors and outdoors.
This anti-bark device offers a rugged all-black design that is 100 percent rain-resistant. Pet trainers can use this anti bark dog collar out in the yard or out on a walk without worrying about the weather disrupting their training time.
The remote controlled dog training collar and rechargeable remote transmitter have the same battery life of up to one week. Just simply plug the unit into the included charger and time to train a dog would be up to hours on end. The remote transmitter has a range of up to 330 yards, so a trainer will not worry about his Fido scurring away and getting into trouble when being out without a leash.
Unlike other anti bark devices, this remote dog shock collar has multiple modes depending on the type of effect a pet owner is trying to achieve with his puppy. A beeping mode will give a four-legged buddy an audible signal with no shock at all. Vibration mode will give the dog a bit more of a warning, and a 100-watt electric shock will stop any bad or aggressive behavior on the spot.
The collar also comes with LED lighting, while the receiver comes with a backlit LCD screen, so the dark cannot come between the training process.
Finally included is the durable, adjustable collar, made of high quality nylon, which can extend from 14 to 25 inches to fit all size dogs.
This anti-bark device shock collar comes with a 100 percent satisfaction money-back guarantee. Dugcandy is willing to give an exchange their awesome Dog Training Collar for a new model or a full refund if satisfaction cannot reach 100 percent.
Exclusive: Flat 15% discount today on this owesome Dugcandy Dog Training Collars with the given Dugcandy discount coupon. Enter the coupon code "Dugcandy" at checkout in the "Add a gift card or promotion code" field. The 15% discount will then be applied.
Contact: Contact@dugcandy.com, 010 Mahlon Street Eatontown, New Jersey 07724 United States
Source: https://www.amazon.com/dp/B071CF82WG, https://dugcandy.com
Keywords: dog training collar, dog shock collar, remote controlled dog training collar, anti bark devices, remote dog shock collar