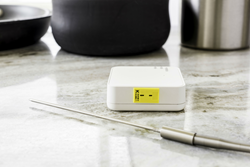 The K-Mometer will not only help people cook safely, but also cook perfectly, at an affordable price
San Jose, CA (PRWEB) May 25, 2017
Connected device startup Konnected Widgets is tackling the common, yet preventable public health problem of foodborne illness caused by undercooking with the K-Mometer(TM), a smart Wi-Fi thermometer that can remotely monitor the internal temperature of food while it cooks, and report the temperature on your smart phone or tablet.
Each year in the United States alone, 1 in 6 Americans contract foodborne illness, and the Center for Disease Control estimates it affects 48 million people each year, with 128,000 hospitalized and 3,000 fatalities. According to the United States Department of Agriculture, using a food thermometer is the only way to verify that food has reached a safe minimum internal temperature where any harmful bacteria is destroyed, and is the only way to prevent foodborne illnesses due to undercooking.
"Our mission is to make connected devices that are affordable and solve real world challenges, such as foodborne illness due to undercooking, a severely underestimated public health issue", said Founder and CEO, Zin Thein Kyaw. "The K-Mometer will not only help people cook safely, but also cook perfectly, at an affordable price."
The K-Mometer is unique in its class, offering standard Wi-Fi connectivity, an integrated industry standard Type K thermocouple sensor, and probe, at an affordable price. The Type K thermocouple allows it to sense very high heat temperatures for up to 8 hours, making it possible to cook a turkey or smoke BBQ meats from start to finish. Competitor devices use probes that are susceptible to moisture damage after repeated exposure to high heat, and some probe cables will even melt in the process, making it costly in terms of time and money for the consumer to keep replacing them.
The K-Mometer features extended range via Wi-Fi, allowing users to continue to do what they need to do around the house without having to be in range of what they are cooking. "We designed in Wi-Fi from the beginning so that you can continue the rest of your meal preparation or entertain guests without missing a beat. As long as your phone or tablet has access to Wi-Fi you will know exactly how your food is doing."
The K-Mometer can now be pre-ordered via its Indiegogo campaign for US$79, and is shipping Fall 2017. The first 250 backers will receive it an early bird price of US$69.