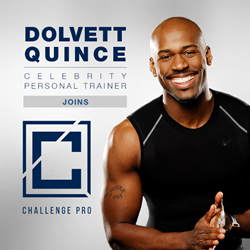 "Challenge Pro will help countless more people achieve their best health, by giving thousands of professionals affordable access to tools they need to market and run their business." - Dolvett Quince
Los Angeles, CA (PRWEB) June 22, 2017
Dolvett Quince, renowned celebrity trainer and star of the hit reality TV series, The Biggest Loser, has signed on to represent and continue developing Challenge Pro™, a new platform for health and fitness professionals, scheduled to kick off at an event in Orlando, FL on July 16th. Challenge Pro is the latest health industry innovation from Vi.
Having helped over three million people transform their health, Vi has established itself as a leading company and one of the early architects and innovators of Challenge marketing. With over a decade of experience in this space, the company has also benefitted from its partnership with numerous health and fitness professionals who use and recommend Vi products.
Challenge Pro was created to provide business solutions for fitness professionals. In a nearly $9 billion industry, with over half a billion personal trainers and growing, there is a need for a way to help professionals stand out from the competition and claim a piece of this booming market.
"For any fitness professional looking to maximize the growth of their business, it is critical to market yourself and build an audience, to continually add new clients, and to generate revenue from your clients," said Quince, who has been a business mentor to over 200 personal trainers. "Challenge Pro has been designed to help fitness professionals build their brand, get better results for their clients, and grow their income."
As a leading voice in the development of this platform, Quince is excited to see Challenge Pro tackle some of the biggest challenges faced by fitness professionals today. "I feel the pain of people in the industry right now. You want to spend time and focus on your clients, but you don't have access to the right tools to run a business. You want to have a great brand, but don't know how to build a website. You spend all your time chasing low-paying sponsorships, with limited results. Challenge Pro removes those obstacles and puts you back doing what you do best," Quince explained.
By putting trainers in a position to impact more lives, there is an opportunity to achieve something greater than physical results alone. As Dolvett explained, "Personal training for me is much more than body transformation; it's state of mind transformation, a spiritual and emotional transformation. You need to start with your head, and your body and habits will follow. When a trainer can be unleashed and able to focus on that mission, the results are incredible."
The idea that sparked this platform came from Nick Sarnicola, Co-Founder of Vi, who took the reins as CEO in January. Key among his initial objectives was to put in motion a project that would help unite and create value for the fragmented fitness industry.
"Having worked with thousands of the country's best fitness professionals in the past, and even owning a gym myself, I was tired of seeing talented people not achieve the most from their business simply because they didn't have the right tools," said Sarnicola. "Challenge Pro will help countless more people achieve their best health, by giving thousands of professionals affordable access to tools they need to market and run their business."
At launch, Challenge Pro will offer health and fitness professionals an annual contest providing them and their clients a chance to win prizes for the most inspiring transformations. It will include a full suite of online tools to help Challenge Pros manage their business, and get access to online marketing, sales, and entrepreneurship training. Members will also be able to increase their income as they build a team of Challenge Pros, and when their clients take advantage of a nutritious and delicious menu of health products available to Challenge Pros.
Challenge Pro is currently in its pre-launch phase, with several influential fitness professionals already subscribing ahead of launch. To learn more, please reach out to a local independent Challenge Pro who can connect you with additional resources prior to the platform's official launch in June.
For more information, visit http://www.challenge.com