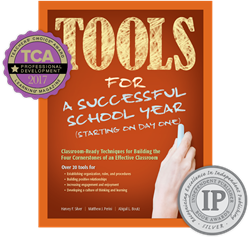 "These awards recognize that the Four Cornerstones laid out in Tools for a Successful School Year have a significant impact on classroom success."
Franklin Lakes, NJ (PRWEB) May 31, 2017
Tools for a Successful School Year (Starting on Day One), from Thoughtful Education Press, wins both a Teachers' Choice Award from Learning® Magazine in the category of Professional Development and an IPPY Silver Award in Education from the Independent Publisher Book Awards in the category of Education. These prestigious 2017 awards recognize outstanding products for today's teachers. The Teachers' Choice Award winners are selected after review by a panel of practicing educators who test the products in their classrooms. IPPY award winners are chosen from among the books of about 2,400 publishers from around the world.
Tools for a Successful School Year is organized around what the authors call the Four Cornerstones of Effective Classrooms. Synthesized from research and from the insights of hundreds of teachers, the Four Cornerstones are the essential components that successful teachers establish at the beginning of the year to promote positive behavior and high levels of learning all year long. Author Dr. Harvey Silver explains, "These awards recognize that the Four Cornerstones laid out in Tools for a Successful School Year have a significant impact on classroom success."
Although the Four Cornerstones serve as the book's organizing principle, the primary focus is on the question of how: How do teachers build the Cornerstones in their classrooms? "Our approach is extremely practical," co-author Dr. Abigail Boutz says. "We recognize that teaching is hard work, so our tools are designed to make that work easier and more effective. Plus, our tools approach to classroom improvement means the book doesn't need to be read cover to cover: instead teachers can skim to find tools that support their particular goals and needs." The book contains more than twenty of these classroom-ready techniques, each designed to help teachers address specific challenges associated with the beginning of the school year.
The authors are not new to the process of identifying and developing instructional techniques to help teachers. Tools for a Successful School Year is their third such recent collaboration. Their previous books, Tools for Thoughtful Assessment (2012) and Tools for Conquering the Common Core (2016), both won Teachers' Choice Awards. Tools for Thoughtful Assessment also won an IPPY Bronze Award. Co-author Matthew Perini, who also serves as the series editor for the Tools line of books, claims that the success of previous Tools books has been a powerful teacher. Perini explains, "In conducting the research, working with educators, and developing the tools for publication, we learned so much about what makes a tool classroom-ready. This learning process led us to a set of design principles, and these principles, which carry over throughout the series, are what make our tools so easy to implement in the classroom."
The 2017 Learning® Magazine Teachers' Choice Award for Professional Development is the fifth Teachers' Choice Award for Silver Strong & Associates' publishing division (Thoughtful Education Press). The 2017 Independent Publisher Book Awards IPPY is the second for the Tools for Todays' Educators series. Perini says, "These latest awards are a wonderful reminder of what can happen when committed educators are given the tools they need to help all their students succeed."
Educators may obtain a free sample tool from Tools for a Successful School Year at http://ToolsForASuccessfulSchoolYear.com.
Tools for a Successful School Year (Starting on Day One) (http://toolsforasuccessfulschoolyear.com) published by Silver Strong & Associates – Thoughtful Education Press
Harvey F. Silver, Matthew J. Perini, Abigail L. Boutz
CATEGORIES:
Education
K-12
Paperback
ISBN 978-1-58284-209-7
Available at http://www.ToolsForTodaysEducators.com
----------------------------------------
What education professionals are saying about Tools for a Successful School Year (Starting on Day One):
Once again, the Thoughtful Classroom team has provided simple tools that open the door for thoughtful work in the classroom. The tools in this book enhance and complement so many ways in which students can build the Habits of Mind.
—Bena Kallick, Co-director, Institute for Habits of Mind
A well written, easy-to-use resource for new and experienced educators alike. Tools for a Successful School Year provides high-impact strategies that teachers can use to establish a foundation for learning that lasts all year long. A must-have for every classroom.
—Tracy Quattrone, Director of Pupil Services, Indian Hill Exempted Village School District, Cincinnati, OH
Engaging, easy-to-use tools that help you create simple routines that allow for HUGE successes.
—Lauren Peelen, Spanish Teacher, University Prep Charter High School, Bronx, NY
Tools for a Successful School Year has helped me establish an upbeat classroom environment that's characterized by respectful behavior, collaborative relationships, high levels of engagement, and deep thinking. Thanks to the tools in this book, my students know that these are the norms in our classroom.
—Jennifer Moirao, 3rd-Grade Teacher, Amador Elementary School, Dublin, CA
----------------------------------------
About the Authors:
Harvey F. Silver, EdD, president of Silver Strong & Associates, is an educational consultant, bestselling author, and the lead developer of The Thoughtful Classroom™, a professional development initiative dedicated to the goal of "making students as important as standards."
Matthew Perini, MA, Director of Content Development for Silver Strong & Associates, is an author and the series editor for the Tools for Today's Educators™ series.
Abigail L. Boutz, PhD, has taught, tutored, and mentored students at the elementary through college levels, and has developed numerous training modules and workshops on effective teaching.
About the Publisher:
Silver Strong & Associates' Thoughtful Classroom program has helped hundreds of schools and districts improve teaching and learning by offering the most personalized, hands-on approach to professional development. Thoughtful Education Press, the publishing division of Silver Strong & Associates, publishes practical resources for educators.