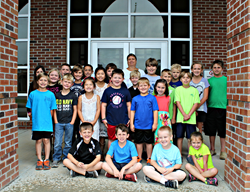 I can't thank Imagination Playground enough for this wonderful and worthwhile project and I know that our students are going to love playing and exploring with this new equipment
(PRWEB) May 25, 2017
Imagination Playground, LLC—creators of the breakthrough play space concept that encourages child-directed, unstructured free play—announced today Screven Elementary School as the latest recipient of Imagination Playground's Vote for Play award. The school located in Georgia secured its win by generating nearly 4000 votes and will receive a 105-piece Imagination Playground Big Blue Block Set.
Screven Elementary Principal Shawn Yeomans was instrumental in getting the school staff voting daily and participation of several other schools in her district. She shared her excitement by saying "I think it is awesome that your company has not only developed a unique playground idea to expand the minds of our youth, but you also offer opportunities for a chance to win such an amazing playground! I was astonished by the fact that our little school of 250 students, with the overwhelming help of our seven other schools, was able to accomplish this feat!"
She goes on to say, "I can't thank Imagination Playground enough for this wonderful and worthwhile project and I know that our students are going to love playing and exploring with this new equipment."
David Krishock, President & CEO of Imagination Playground offered his congratulations and applauded the school's ability to rally the community, "It's amazing that Screven was able to get the support of seven other schools to help support their voting efforts. That's what the Vote for Play contest is all about, getting communities involved to support their favorite school or family center."
Krishock goes on to say, "With the principal's dedication and community support, the students of Screven Elementary will be enjoying their new Imagination Playground for the start of the new school year!"
Imagination Playground's Vote for Play contest is held multiple times a year, allowing communities to vote for their favorite school or family center to bring an Imagination Playground to the children they serve. Community members can vote once a day, every day, throughout each voting session.
Screven Elementary is the first Vote for Play awardee of 2017, and the 16th organization to receive the award since the contest's inception. The next Vote for Play session will be announced in the summer of 2017. Schools and family centers interested in participating in the next Vote for Play session should check Imagination Playground's Vote for Play web page and as well as social media links below.
http://www.imaginationplayground.com/promotions/thank-you-for-voting.html
https://www.facebook.com/ImaginationPlayground/
https://twitter.com/ImgPlayground
https://www.instagram.com/imaginationplayground/?hl=en
To learn more about the creative play offered by Imagination Playground, or to bring the Big Blue Blocks to a school or family center, call 1-678-604-7466 or email ContactUs(at)ImaginationPlayground(dot)org.
About Imagination Playground, LLC
Imagination Playground is a breakthrough play space concept developed to encourage child-directed, creative free play. The kind of play that experts say is critical to children's intellectual, social, physical and emotional development. Created by architect and designer David Rockwell and the Rockwell Group, Imagination Playground enables children to play, dream, build, and explore endless possibilities. Imagination Playground finds its home in daycare centers, kindergartens, elementary schools, children's museums—and science, nature, discovery centers, camps, family centers, children's hospitals, hotels, public parks and more—in North America and over 60 countries overseas. For more information, visit http://www.imaginationplayground.com