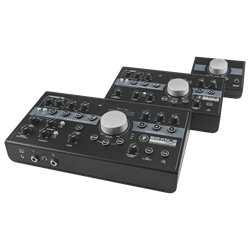 "For nearly 30 years now, Mackie has been an industry leader - Matt Redmon, Director of Channel Marketing
Oakland, NJ (PRWEB) June 06, 2017
LOUD Technologies is host to some of the most highly-respected and in-demand professional audio and musical products found on earth. Under the LOUD umbrella, Ampeg®, Martin Audio®, EAW®, and – of course – Mackie®. In celebration of Mackie's tremendous success as a brand and its strong relationship with this innovative company, American Musical Supply released this new behind-the-scenes article on Mackie, by music industry journalist Malcolm Doak.
Mackie the Man.
But before there was LOUD Technologies, before there was Mackie Designs, before there was TAPCO, there was the man who got the ball rolling, and who lent his name to the brand that carries his ideas and ideals forward – Greg Clark Mackie. As with so many iconic industry champions, the Greg Mackie saga begins with a love of music. Born in Seattle, Washington, Greg Mackie was raised on some 25 miles north in the Puget Sound town of Mukilteo. He played drums in a cover band, back when amplifiers were rare and prohibitively expensive; the amps needed to be rented for every gig. As the son of a ham radio operator, Greg Mackie was exposed early on to the scores of electronic parts around the house, and to the piles of electronic parts catalogs. After dissecting one of the rental amps and comparing parts from those catalogs, Greg Mackie was convinced he could make a higher-performing product – and that he could make it for less money.
The TAPCO Timeline
After graduating from high school and a few years spent at Boeing, Greg Mackie teamed up with Martin Schneider to create TAPCO [Technical Audio Products COmpany] in 1971. Rock music was exploding across America. Tapco began by making the "better" electric guitar amplifiers Greg Mackie had originally envisioned; but it was solving the issues that rock bands were having with existing PA components that truly put Tapco on the map. Rock bands sang loud and played even louder. The mixers of the day could too easily overload, and the resulting distortion vexed many systems. Greg Mackie and Roger Rosenbaum created a single-knob solution called the AutoPad circuit that could effectively control the input preamp gain and the channel level all at the same time. This allowed the mixer to accept a much higher signal level without introducing any distortion. Equipped with this AutoPad circuitry, the Tapco 6000 became the must-have mixer of the day.
The Dawn of the Project Studio
Beginning in 1982, MIDI [Musical Instrument Digital Interface] – the universal serial interface for musical instruments – had changed the nature, the needs, and the instrumentation of the music world. Hardware sequencers allowed polyphonic synthesizers, rack-mount tone modules, samplers, workstation keyboards, and drum machines to create multi-part performances with sound flowing from an increasing number of instrument outputs. These sequencers could operate on their own, or lock tempo to the sync-track of a multi-track tape recorder to add extra "virtual tracks." Many bands of the day created their own backing tracks in the studio, and played along to the sequenced tracks in live performance. By the end of the 1980s, elements of the Digital Audio Workstation – a computer-based sequencer, sampler, software synthesizer, and multi-track digital audio recorder – were beginning to appear. The question remained, "how to effectively and economically handle this increasing number of outputs?"
By 1988, Greg Mackie had once again cast his sights on the mixer market, and Mackie Designs began life in a condo in Edmonds, Washington. Previously, TAPCO had been able to build a dynasty by capitalizing on a mixer market that had not kept pace with changing times – and needs. In 1988, Mackie Designs saw the same type of opportunity in addressing the bourgeoning project studio market.
By his own description, Greg Mackie is a tinkerer and a hobbyist musician, one who knows just enough about what he wants to realize what he needs. It was this analytical ability that led to the success of the first Mackie Designs mixer, the LM-1602. Priced at a modest $399, it was an instant hit. This early success provide a jumpstart to the fledgling company. Mackie Designs moved to a true factory setting and focused on the follow-up model, the CR-1604, released in 1991. During an era where most mixers featured identical input channels, all in a row, with lots of hardware redundancy, expense, and the threat of increased noise, Greg Mackie determined that not every channel needed a full XLR input and/or microphone preamp – and chose only six.
Live and Let Live
By 1995, Mackie Designs had its eyes on the live sound reinforcement market as well. Mackie Designs mixers had a reputation for being "built like a tank" and being able to withstand the demanding environments of life on the road. In addition, the Mackie Designs philosophy mandated a mixer design that looked good, felt good to work on, and was easy to use. Later that year, Mackie Designs delivered its 100,000th mixer, and moved into their new 89,000 square-foot production center populated by state-of-the-art manufacturing machines.
This is an abridged version. To read the complete story, scroll down to the bottom of the official AMS Mackie brand page.
Copyrights: use of this story, in part or in full, is granted provided page source is referenced: https://www.americanmusical.com/mackie