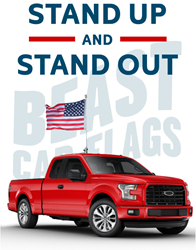 New York (PRWEB) May 25, 2017
CarTop Expressions, creators of the hit Christmas CarTree (http://www.ChristmasCarTree.com), are launching their next cartop invention exclusively on Indiegogo: Beast CarFlags - The world's only car roof mounted flag system.This Car Flag is the ultimate way to display your message, loyalty or passion via any flag you choose on the most prime mobile real estate – the car roof. With a world full of so many views and statements, a simple bumper sticker or window cling just doesn't stand out anymore and the ability to state your truth for all to see with the ultimate symbol of expression – a prominent flag, is an extremely powerful tool. The Patent Pending street-tested Beast Car Flag takes your pride to a whole new level.
Its adjustable height takes your flag from 2.5ft up to nearly 4ft of awesome! The mounting hardware is safe, quick and easy to mount on any car, anyone can do it, no major tools necessary and doesn't leave a trace on your car once removed. The LED lighting feature illuminates the flag at night so that your message is never hidden and the flag pole can fold down flat for low ceiling areas.Whether showing your country pride at a July 4th Parade, your team spirit at a Sporting or tailgating event, to support our troops, to fly the Pink Ribbon, or for the many other occasions we all feel strongly about, Beast Car Flags allow all to RIDE WITH PRIDE!The product is launching May 24th with Crowdfunding platform Indiegogo the only place to get it.
The first to get it on launch day while supplies last, can own this product for a highly reduced price of $79 (down from its MSRP of $129) which includes a 2x3 American Flag and a limited supply will be shipping to customer in time for July 4th weekend.
For more information, visit: https://www.indiegogo.com/projects/beast-car-flags-stand-up-and-stand-out-cars#/ http://www.BeastCarFlags.com Or contactinfo(at)trendsformers(dot)com, 8887002423
Video: https://www.youtube.com/watch?v=fE4ou-oXIkg
Media Press Kit:https://www.dropbox.com/sh/j3to68whv3t5fgt/AADXYu5z4svHioa2dHbbGj_aa?dl=0
Car Top Expressions has been featured by the Today Show, CNN, Fox News, Huffington Post,Yahoo, AOL and many other major Media outlets.