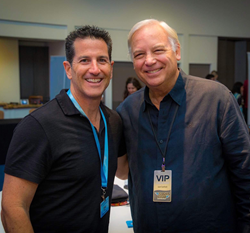 CEO & Founder of Brandetize, Eric Berman, with Client and Co-Creator of The Chicken Soup for the Soul Series, Jack Canfield
San Diego, CA (PRWEB) June 01, 2017
Brandetize, the digital marketing team behind Brian Tracy, Jack Canfield, and Phil Town's successful online marketing announced earlier this year they are going to host a live, 5-day workshop on-site at their San Diego headquarters.
The Brandetize Live Academy Workshop will include experts from every area of digital marketing to reveal cutting-edge techniques, strategies, and tactics that are proven to grow companies into multi-million dollar brands. The curriculum will include content marketing and copywriting, social media, paid advertising, affiliate marketing, search engine optimization, web design, email marketing, CRO, customer service, and more.
Designed for entrepreneurs, marketers, business owners, authors and speakers, the goal of Brandetize Live Academy is to equip individuals looking to master digital marketing, grow their online following, and ultimately increase their bottom line with the tools they need without the hassle or expenses of hiring a digital agency or consultants.
Unlike other marketing workshops, participants will receive customized training pertaining to their particular business goals. Brandetize marketing experts will help individuals create an extensive playbook, blueprints, and marketing materials they can immediately implement after the workshop.
"We want to help as many people as possible, but we can't partner with everyone," states Eric Berman, CEO of Brandetize. "So we decided to teach the strategies and tactics we use every day in a condensed, easy-to-learn workshop course. We're giving everyone one-on-one access to the same team behind some of the biggest names out there. There is no doubt people will find this information valuable to their business, no matter how big or small."
Over the past 10 years, Brandetize has partnered with some of the biggest brands to help market and monetize their business. They take a fully-integrated approach to marketing and sales, focusing on growing your audience and, ultimately, your profits across a variety of mediums. Brandetize started off managing personal development and success expert, Brian Tracy's digital marketing over 10 years ago. Soon after, the team added Founder of Rule #1 Investing, Phil Town, as well as author of The Success Principles and co-creator of The Chicken Soup for the Soul series, Jack Canfield, as business partners, handling all aspects of marketing, sales, and technology.
The 5-Day interactive workshop is limited to only 10 companies who have a desire to build their brand and increase their revenue, and are vetted through an application process. To learn more about the workshop and to apply, visit: http://brandetize.com/live-digital-marketing-workshop/.
About Brandetize
Brandetize is a team of digital marketing experts headquartered in San Diego, CA that serves as a partner for brands and entrepreneurs looking to expand their reach and monetize their business. For over 10 years, the team has managed and partnered with successful brands across a wide variety of industries, including Brian Tracy International, Jack Canfield Training Group, and Rule #1 Investing. To learn more about Brandetize and its services, visit brandetize.com.