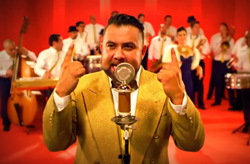 ...(PMO's) arrangements and original compositions are energetic, explosive and infectious, creating a special kind of excitement that can only be delivered by a true Latin Big Band. - Examiner.com
San Rafael, CA (PRWEB) June 02, 2017
The 25th Annual Summer Series of live music, dinners, cocktails, picnics, dancing, Kid Zone, and fun continues on Saturday, July 22 with Oakland's own Grammy-winning band: PACIFIC MAMBO ORCHESTRA.
This 2014 Grammy® Award-winning 19-piece Latin Big Band plays Salsa, Mambo, Latin Jazz, and Cha Cha Cha along with a fusion of sounds that incorporate more modern genres. They deliver original music and clever, modern arrangements of hit songs, paving the way to a bold new sound designed to reach the next generation of Big Band listeners.
Get ready to dance! The wooden dance floor will be set on the turf and under the bistro lights to add to the night of fun, and Dance Arts Studio of San Rafael instructors will be there pre-concert to teach you a few mambo moves to keep you moving through the night.
The concert offers dinner for sale from a local farmers' market favorite: Barrio Contemporary Mexican Cocina, offering delicious dinners for the evening. A children's hands-on art project will be provided by Marin Community Clinics and festival shopping from Good Will Industries' Georgi & Willow store.
The Osher Marin JCC's outdoor music series has been created to celebrate diversity, find commonalities, and bring generations together through live music. Five consecutive Saturday nights of great music, under beautiful Marin Skies in an intimate and beautiful setting – Five evenings of community building through the arts.
WHAT: Outdoor family- friendly concerts, fun, and dining for all ages.
WHO: All are invited. No membership/affiliation required. Kids 17 and under free.
TICKETS: From $25. Kids 17 and under FREE.
VIP, Reserved tables & General Admission choices
WHEN: Sat. July 22, 2017
WHERE: The Osher Marin JCC, 200 N San Pedro Rd, San Rafael,
1/2 mile E off 101
PARKING: Ample FREE lot and on-street parking available.
TICKETS: Available at http://www.marinjcc.org/arts
FACEBOOK page
THE 25th ANNUAL SUMMER NIGHTS SERIES
7/8: Americana - Brothers Comatose
7/15: African – Thomas Mapfumo & The Blacks Unlimited
7/22: Latin Big Band – Pacific Mambo Orchestra
7/29: Afro-Cuban – Ricardo Lemvo & Makina Loca
8/5: Celebrate the Summer of Love – Melvin Seals & JGB