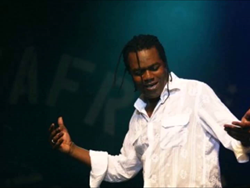 Lemvo and his band, Makina Loca, manage a blend of Cuban and Central African traditions that is seamless and organic - and infectious. - The Los Angeles Times
San Rafael, CA (PRWEB) June 02, 2017
The 25th Annual Summer Series of live music, dinners, cocktails, picnics, dancing, a Kid Zone, and fun presents its 4th summer concert on Saturday, July 29 with Afro-Cuban beats from RICARDO LEMVO & MAKINA LOCA.
Congo-born musician and singer, Ricardo Lemvo, arrives with his band, Makina Loca, along with their blend of Afro-Cuban rhythms with pan-African styles, for an evening of innovative music. And dancing on the wooden dance floor under the stars.
Having established himself as a multi-cultural music pioneer, Ricardo is the embodiment of the Afro-Latin Diaspora, connecting back to Mother Africa via the Cuban clave rhythm. He is equally at home singing in English, French, Spanish, Portuguese, Lingala and Kikongo.
Since forming his Los Angeles-based band Makina Loca in 1990, Lemvo has refined his craft and vision, raising his joyous voice with strength, singing songs that celebrate life, and most importantly, inspiring his audiences to let loose and dance away their worries. The evening offers a pre-event Salsa class from the instructors at Santa Rosa Salsa for this special evening and to help everyone get up on the dancefloor.
Bring a picnic or appetite as local fave restaurant, Toast Novato will be offering delicious Cubano sandwiches and more for the evening. A children's hands-on art project will be provided by WildCare Marin and festival shopping from Good Will Industries' Georgi & Willow store.
The Osher Marin JCC's outdoor music series has been created to celebrate diversity, find commonalities, and bring generations together through live music. Five consecutive Saturday nights of great music, under beautiful Marin Skies in an intimate and beautiful setting – Five evenings of community building through the arts.
WHAT: Outdoor family- friendly concerts, fun, and dining for all ages.
WHO: All are invited. No membership/affiliation required. Kids 17 and under are no charge.
TICKETS: From $25. Kids 17 and under free.
VIP, Reserved tables & General Admission choices
WHEN: Sat. July 29, 2017
WHERE: The Osher Marin JCC, 200 N San Pedro Rd, San Rafael,
1/2 mile E off 101
PARKING: Ample free lot and on-street parking available.
TICKETS: Available at http://www.marinjcc.org/arts
FACEBOOK page
THE 25th ANNUAL SUMMER NIGHTS SERIES
7/8: Americana - Brothers Comatose
7/15: African – Thomas Mapfumo & The Blacks Unlimited
7/22: Latin Big Band – Pacific Mambo Orchestra
7/29: Afro-Cuban – Ricardo Lemvo & Makina Loca
8/5: Celebrate the Summer of Love – Melvin Seals & JGB