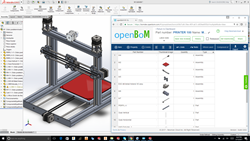 openBoM, integrated with DS SOLIDWORKS, streamlines the CAD to BOM process by establishing a new agile paradigm
Newton, MA (PRWEB) May 29, 2017
openBoM, the first real-time cloud BOM management and collaboration tool designed to help manufacturing companies share, collaborate, manage, and track BOMs across organizational and geographic boundaries offers DS SOLIDWORKS users an alternative to the pain involved with BOM spreadsheets. openBoM, integrated with DS SOLIDWORKS, streamlines the CAD to BOM process by establishing a new agile paradigm. Users make simultaneous changes to a BOM without blocking each other helping eliminate delays and costly disruptions. A typical use-case example is openBoM speeding up collaboration between engineering and procurement by allowing people to stay on the same BOM without exchanging emails with BOM spreadsheet attachments.
Features which make openBoM popular with DS SolidWorks users include:

Access and manage all openBoM BOMs in a single browser based dashboard;
Track BOM records and create and manage BOM revisions;
View history of changes to a BOM and generate change reports;
Flexible BOM configuration with fully customizable properties;
BOM sharing & collaboration with team, manufacturers and suppliers;
Simultaneous BOM editing across organizational and geographic boundaries;
Track part usage across multiple BOMs with intelligent "Where used" queries;
Multi-level BOM support with intelligent "Composed of" queries;
Create and maintain Part Catalogs (Inventories);
Export BOM to Excel, PDF and CSV; and
Integration with MCAD and ECAD tools to to manage BOM changes from different CAD systems.
"We welcome openBoM as a SOLIDWORKS certified Solution Partner and look forward to helping make our users aware of BOM management that can expand their value chains and facilitate collaboration across distributed engineering and manufacturing environments," said Nicholas Iwaskow, Director of Alliances & Partnerships at DS SOLIDWORKS. "We are proud to have earned the DS SOLIDWORKS Certified Solution Partner status. And we look forward to offering SOLIDWORKS users better integration and BOM capabilities made possible by our unique cloud-based technologies integrated with CAD and PDM products," remarked Oleg Shilovitsky, CEO and Co-founder of openBoM.
About openBoM.
openBoM™ was co-founded by Oleg Shilovitsky and Vic Sanchez, both experienced software industry veterans. openBoM is a unique BOM cloud data management and collaboration tool that removes the traditional pain of managing BOMs across organizational and geographic boundaries. Headquartered in the Boston, MA region, openBoM's website is http://www.openbom.com. Discover why openBoM is the new alternative to BOM spreadsheets. For more information or questions please contact vic(at)openbom(dot)com. openBoM is a Trademarked and wholly owned and branded product of Newman Cloud®, Inc.
About SOLIDWORKS
Powered by the Dassault Systèmes 3DEXPERIENCE® platform, SOLIDWORKS® 3D applications help millions of engineers and designers succeed through innovation. SOLIDWORKS delivers an intuitive experience in product design, simulation, publishing, data management, and environmental impact assessment.
For the latest news, information, or an online demonstration, visit SOLIDWORKS website (http://www.3ds.com/SOLIDWORKS), or call 800 693 9000 (outside of North America, call +1 781 810 5011).