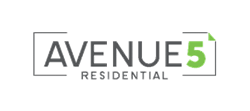 Today's associate milestone marks an important new stage in Avenue5's history.
Seattle, WA (PRWEB) May 25, 2017
Avenue5 Residential, a multifamily property management services firm, announces that it has achieved a milestone of 1,000 associates working in its corporate offices and managed properties across the United States.
"Today's associate milestone marks an important new stage in Avenue5's history," stated Walt Smith, CEO of Avenue5. "It's rewarding to see that the talent and expansion strategies we envisioned when founding our company three years ago are becoming a reality."
Founded in 2014, Avenue5 is a private third-party property management company. Avenue5 began its business with 300 associates who oversaw management of a 33-property, 6,500-unit portfolio on behalf of a single client. The company now manages more than 180 properties with more than 35,000 units in 12 states nationwide, on behalf of 42 clients. After initially operating out of a single office in Seattle, the company now has additional offices in Phoenix, Portland, and the Washington, DC metro areas and has local experts in major markets nationwide. Over the past year, Avenue5 has expanded its portfolio of managed properties to about 25 new markets throughout the country, including Baltimore, San Antonio, and Washington, DC. The company is currently ranked 46th on the NMHC Top 50 list of multifamily managers.
Smith credits the company's growth to the skills and talents of its team of dedicated associates, which has increased 35% in the past year alone.
"We've always emphasized the importance of delivering a hands-on approach for our customers, and our associates' diversity, passion, knowledge, and commitment to a high level of service all make that possible," stated Smith. "It's important to us that every associate feels like they have a seat at the table, and feels empowered to take care of our clients and residents."
Smith noted that associates are attracted to Avenue5's vibrant culture, growth opportunities, and practice of promoting from within. The company has given nearly 100 merit-based promotions to associates in the past year.
"It's been our mission since day one to recognize our associates and let them know how much we value them," said Smith. "We've created expansive in-person and online learning opportunities, educational reimbursement, team-building days, exclusive associate discounts, and paid days off for associate birthdays as well as associate volunteer projects to help them feel engaged and energized."
Avenue5 is actively looking to fill corporate and on-site positions located in markets nationwide. For more information on employment opportunities at Avenue5, visit avenue5careers.com.
About Avenue5 Residential
Avenue5, a multifamily property management services firm, oversees over 180 properties and more than 35,000 units in 12 states. The company is headquartered in Seattle, and has offices in Phoenix, Portland, and greater Washington, DC. Avenue5 also retains local experts in major markets including Spokane, Southern and Northern California, Reno, Las Vegas, Salt Lake City, Albuquerque, Denver, Colorado Springs, Austin, Dallas, and Baltimore. The firm employs about 1,000 associates nationwide. http://www.avenue5.com