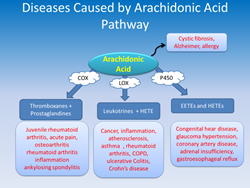 Los Angeles, CA (PRWEB) June 12, 2017
Fish oil contains omega-3 fatty acids eicosapentaenoic acid (EPA) and docosahexaenoic acid (DHA). The omega-6 fatty acids can convert to arachidonic acid which is a "bad" fat. Arachidonic acids are found primarily in fatty red meats, egg yolks and organ meats. This particular polyunsaturated fat is thought to be the most dangerous fat known when consumed in excess, says Robert Gadimian, owner of Rophe Pharma.
Why is arachidonic acid so bad and how can fish oil help us with it? Robert Gadimian, owner of Rophe Pharma recommends starting with a look at what exactly it is that arachidonic acid does.
Arachidonic acid is the precursor for arachidonic acid cascade which plays a major role in a variety of the diseases in different organs of the body. It is the precursor of eicosanoids, an important group of biologically active compounds. Eicosanoids are derivatives formed in the arachidonic acid cascade. The arachidonic acid cascade is the cause of many illnesses (Figure 1). Eicosanoids are formed by three different routes, namely via the cyclooxygenase (COX), cytochrome P-450 (cyt P-450) or lipoxygenase (LOX) pathways. The eicosanoids are considered "local hormones." They have specific effects on target cells close to their site of formation.
Examples of eicosanoids are prostaglandins, prostacyclins, thromboxanes, leukotrienes, and epoxyeicosatrienoic acids (ETEs). They have various roles in inflammation, fever, regulation of blood pressure, blood clotting, immune system modulation, control of reproductive processes and tissue growth, and regulation of the sleep/wake cycle; thus, they may play a role in cancer, asthma, inflammatory bowel disease, rheumatoid arthritis, and other autoimmune disorders. (Figure 1).
How does fish oil help us with the negative impact of arachidonic acid? Gadimian explains that, as EPA and DHA found in the fish oil are incorporated into cellular membranes throughout the body, they do two things. First, they displace arachidonic acid and second, they compete with arachidonic acid for conversion into metabolites.
When the DHA and EPA found in the fish oil displace and compete with arachidonic acid, they are thought to prevent the activation of the arachidonic acid cascade, which, as mentioned above, is the root cause of many diseases. This means that fish oil not only prevents heart disease, it can prevent many more diseases through its ability to lower the activity of the arachidonic acid cascade.
The clinically effective dose for DHA and EPA is around 1-2 grams per day. One should find fish oil products that do not contain mercury, Gadimian says.