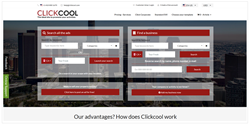 (PRWEB) May 26, 2017
ClickCool Ads Inc. is a Canadian company, specialized in inbound marketing. Clickcool helps companies attract visitors through quality content created by themselves, to convert leads, customers nearby and position their activities on search engine results like Google, Yahoo and Bing.
Everything's going too fast, we're not talking about time to kill but lack of time. We are looking to save time and then, it is well known, time is money. There is nostalgia for the time of yesteryear, but for all professionals who respect each other, it is time to take the lead and become master of its time. For a company that wants to communicate at any time about its products, its methods of payment, its promotions, or even on its timetables must equip itself with a string of external services that never end and which prove to be extremely expensive.
Adapting to the technological revolution
Clickcool proposes to project itself in the future, avant-garde by its methods at the forefront of referencing among others, taking into account a set of operative rules involved in any kind of calculation. It goes without saying that it is a system for finding the largest common denominator of two minimum numbers. In other words, where the web would not find you with some keywords, Clickcool manages to put you at the top of the list of search engines on the Internet.
Business model/Economic system:
But the company Quebec does not just project you at the top of the net, it realizes a showcase site corresponding to your expectations and your needs, editable at any time and viewable from anywhere on the globe and beyond! Yes, Clickcool is the most comprehensive service that can be found to date on the Romand market and its professional packs from $3.50 per day, which does not even symbolize the price of a coffee, are advantageous! They offer an unprecedented value for money. Custom tailored support is offered using click Corporate to highlight commercial activities on the web.
Notice to investors:
Currently, Clickcool has launched the first round for fundraising with private investors. Its economic model has already proved its worth by offering digital marketing services, publishing promotional advertisements and personalized advertisements to its customers in Canada.
These funds will help stabilize this business model and become more competitive in the face of the competitor: The blue Giant in Canada. But the main challenge for Clickcool will be to convince companies and traders in English-speaking Canada to adopt this concept in relation to the blue competitor that is firmly anchored.