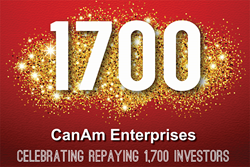 During a turbulent economy and some rapid changes in EB-5 legislation interpretation, CanAm proved to be the best EB-5 Regional Center.
New York, NY (PRWEB) May 31, 2017
We are pleased to announce our most recent EB-5 project repayment, allowing us to reach another EB-5 industry-leading milestone of repaying principal in full to more than 1,700 investor-families in 32 projects, totaling $871.5 million – putting CanAm far ahead of other regional centers, with our closest competitors having only repaid a little more than $100 million to date. We are proud that our principal repayment record continues to set CanAm apart from other regional centers.
The repayment comes from the CanAm PIDC Regional Center, a partnership established in 2003 between New York–based CanAm and the Philadelphia Industrial Development Corporation (PIDC). Over the past 14 years, the CanAm PIDC Regional Center has gone on to become one of the most successful EB-5 regional centers in the nation. In addition to its regional center in Philadelphia, CanAm has also established several USCIS-designated regional centers for the Commonwealth of Pennsylvania, the county of Los Angeles, the metropolitan region of New York, Hawaii, Florida and Texas. Collectively, CanAm has raised more than $2.5 billion in EB-5 investments for 54 project loans. More than 1,800 of CanAm's investors have received permanent residency status as a result of projects' qualifying job creation.
Having led a highly successful similar program in Canada starting in 1987, CanAm President and CEO Tom Rosenfeld, a Philadelphia native, started this business in Philadelphia because of his love for the city. "In partnership with PIDC, we do exhaustive research to find qualified projects for investment. To protect investors, we work hard to ensure that our borrowers follow the job-creation formula required by the EB-5 model," Rosenfeld says. "We constantly monitor all of our projects to ensure that the job-creation goals are being met, and we work with our investors and the federal government to keep everyone fully informed about the project status."
"The foreign financing has been invaluable as a resource for investment in Philadelphia, especially considering the economic conditions of the last eight years, which have been among the most challenging in the modern history of the city," PIDC President John Grady comments.
Overseen by the United States Citizenship and Immigration Services (USCIS), the Immigrant Investor Program, also known as the Regional Center Program or EB-5 Program, provides qualified foreign investors with the opportunity to earn conditional visas in return for investing $500,000 in businesses located in high-unemployment areas that create or retain at least 10 permanent full-time jobs for U.S. workers. It is a win-win job-creation program that receives bipartisan support. A number of EB-5 visas are set aside each year for participants who invest in commercial enterprises associated with regional centers approved of by USCIS.
As of March 2017, USCIS approved 880 regional centers that offer hundreds of investment opportunities through the EB-5 Program. According to a report published by Invest In the USA, since 2008, over $16.86 billion of foreign direct investment has been injected into the U.S. economy thanks to the EB-5 Program. (Source: https://iiusa.org) Even as the program has grown, the PIDC Regional Center remains one of the earliest and most enduring success stories.
# # #
About CanAm Enterprises:
With three decades of experience promoting immigration-linked investments in the United States and Canada, CanAm has a long and established track record. Based on a reputation of credibility and trust, CanAm has financed 54 project loans and raised more than $2.5 billion in EB-5 investments. CanAm exclusively operates several USCIS-designated regional centers that are located in the city of Philadelphia, the Commonwealth of Pennsylvania, the county of Los Angeles, the metropolitan region of New York, Hawaii, Florida and Texas.
About PIDC:
The Philadelphia Industrial Development Corporation (PIDC) is Philadelphia's citywide economic development corporation. Founded in 1958 as a nonprofit, joint venture between the City of Philadelphia and the Greater Philadelphia Chamber of Commerce, PIDC plans and implements real estate and financing transactions that attract investment, jobs and tax revenues to the City of Philadelphia.
PIDC accomplishes this mission by developing and managing public and private resources that are used to leverage even greater investments from a diverse range of governmental, for-profit and nonprofit clients throughout all of Philadelphia's neighborhoods. Over the past 55 years, PIDC has settled over 6,200 transactions, including $11.4 billion of financing and more than 3,000 acres of land sales, which have leveraged over $21 billion in total investment and assisted in retaining and creating hundreds of thousands of jobs in Philadelphia.
PIDC and CanAm use the immigrant investments to capitalize the Welcome Fund, a source of low-cost capital generally available to commercial, retail, industrial or nonprofit firms that create significant job growth, located or planning to locate, to the City of Philadelphia.