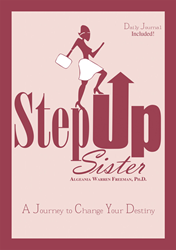 (PRWEB) June 05, 2017
After working with women for over 40 years, Algeania Warren Freeman, Ph.D. noticed that too often women feel unworthy, not good enough, and less than able to accomplish their life desires. Dr. Freeman felt compelled to write, "Step Up Sister" to encourage women to never give up, no matter how tough life's challenges may be.
"Step Up Sister" is a workbook with a personal journal for women who no longer want to be stymied by limitations in life as it reminds them of who they are and shares tips for how they can make positive life changes. Along with biblical scripture, the book provides exercises that women can put into practice, which encourages self-love and self-realization.
In addition to the workbook, the "Step Up Sister Musical Poetry" album is the companion artistic work to inspire women around the world. Listeners will enjoy a mixture of jazz and Christian music as the album provides a humorous, whimsical, and serious feel.
Dr. Freeman said the book was written to tell women that they are winners, champions, and overcomers. The author added that by becoming Step Up Sisters, women make a commitment that will improve their inner selves, build up their fellow sisters, and open doors to become great leaders who can change their communities.
"In 2017, we are amid another great women's moment that started with the suffragette movement, voting rights and women's liberation," said Dr. Freeman. "Now, with the demand that women will be heard, I encourage women to seize the power of the moment. It's time to accept that women are special and uniquely different who are called and anointed by God to fulfil their purpose on Earth."
"Step Up Sister: A Journey to Change Your Destiny"
By: Algeania Warren Freeman, Ph.D.
ISBN: 978-1-4834-6605-7 (sc); 978-1-4834-6606-4 (e)
Available on Lulu, Amazon and Barnes & Noble
About the author
Dr. Algeania Freeman served as the president of two universities and two colleges. She is known as a living legend and game changer who provided the leadership to save the accreditation of three institutions of higher education. Additionally, Dr. Freeman was recognized as an Outstanding College President and received the Harlem Renaissance Award for her successes. In 2016, she received the Madame C.J. Walker Legacy HBCU Alumnae Who Are Game Changers' Award. For more information, please visit https://www.stepupsister.com/home.html.
Review Copies & Interview Requests:
LAVIDGE – Phoenix
Courtney Coombes
480-998-2600 x 612
ccoombes(at)lavidge(dot)com
General Inquiries:
LAVIDGE – Phoenix
Maggie Driver
480-998-2600 x 584
mdriver(at)lavidge(dot)com