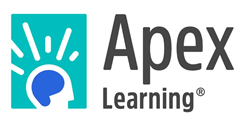 Seattle, WA (PRWEB) May 30, 2017
Apex Learning, known for digital curriculum that makes rigorous, standards-based content accessible to all students, continues the trend of outpacing national scores on the College Board AP exams. Last spring, 65 percent of students taking Apex Learning AP courses scored a 3 or higher on Advanced Placement (AP) exams, five percentage points higher than the national average of 60 percent for the same exams. Each year, Apex Learning students continue to outperform the national average.
"The results on the College Board exams demonstrate the efficacy of our AP courses," said Cheryl Vedoe, CEO of Apex Learning. "When using our online courses, districts can have confidence knowing their students are well-prepared for the AP exams and college level coursework."
Apex Learning offers 13 online AP courses, authorized by the College Board, and designed to support students and teachers working in both blended and virtual learning environments, including: Biology, Calculus AB, Chemistry, English Language and Composition, English Literature and Composition, Environmental Science, Macroeconomics, Microeconomics, Psychology, Spanish Language, Statistics, U.S. History, U.S. Government and Politics.
"Performing well on AP Exams means more than just the successful completion of a course; it is a gateway to success in college," said College Board President and CEO David Coleman. "Research consistently shows that students who receive a score of 3 or higher on AP Exams typically experience higher graduation rates and greater academic success in college."
About Apex Learning
Schools and districts nationwide implement Apex Learning digital curriculum to personalize the learning experience and support success for all students—from those who are struggling to those capable of accelerating. Proven to increase outcomes, Apex Learning digital curriculum actively engages students in learning, with embedded supports and scaffolds to meet the needs of diverse learners. During the most recent school year, there have been over three million enrollments in Apex Learning Comprehensive Courses and Adaptive Tutorials. Headquartered in Seattle, Apex Learning is accredited by AdvancEd and its courses are approved for National Collegiate Athletic Association eligibility. For more information, visit http://www.apexlearning.com or call 1.800.453.1454.
®Advanced Placement and AP are registered trademarks and/or owned by the College Board