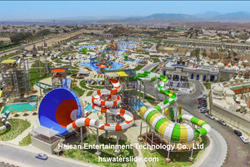 (PRWEB) June 08, 2017
Aqua Blue water park, currently the biggest water park in Egypt, is located in Sharm El Sheikh Aqua Blue Sharm and is the most popular holiday resort developed by Albatros group. This water park, around 70,000 square meters in area, is able to receive over 20,000 guests per day. At the same time, this holiday resort is adding over 200 new rooms to entertain more guests.
Aqua Blue water park gets lots of up-to-date slides, such as tornado slide, constrictor slide, magic-loop slide, roller coasters, huge aqua house, big aqua house and other water games. Among them, the constrictor and Tornado slide, sharing the same platform, are 18.5 meters tall and are perfect for family and friends. The roller coaster is up to 20 meters high and 450 meters long, which allows visitors to have a pleasant and exciting experience with up and down riding.
All the water park equipment in Aqua Blue water park is supplied by Guangzhou Haisan Entertainment Technology Co., Ltd, which is the most professional water park slide manufacturer in China.
HAISAN specializes in planning, design, manufacturing and installation of equipment, landscape gardening construction and operation (management) service for water entertainment project. In Guangzhou, HAISAN has built a 60,000-sqm manufacturing base, which covers a fiberglass slide workshop, steel structure workshop and sculptures.
HAISAN set up a water amusement design and research institute, with China's first-class product design research and development capabilities, and with more than 50 national patent products.
HAISAN is also a member of IAAPA and National Aquatic Entertainment Facility Standard Unit and the draftsman of GB/T18168-2008 standards (specifications of water amusement equipment category).
HAISAN, a unique company in the water park equipment field, and is reported by CCTV as the brand enterprise of "Made In China". To improve the quality of slides, HAISAN imported five axis machinery systems from Italy, ensuring every piece of the water flumes were produced accurately according to design. And the produced slides meet with Europe safety standards, certified by TUV company.
Address of Guangzhou Haisan Entertainment Technology Co., Ltd.:
Room 508, Chuangxin Building, Panyu Ave. 555, Panyu District, Guangzhou City, China
Tel: 0086-20-39218293
Fax: 0086-20-23889566   
Web: http://www.hswaterslide.com
Email:info(at)gzhaisan.com