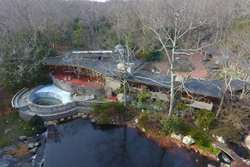 Pompano Beach, Florida (PRWEB) June 01, 2017
"Frank Lloyd Wright's Running Water Home"
Out of over 500 structures built from Frank Lloyd Wright's designs, there are residential homes, museums, churches, commercial buildings, mausoleums and more stretching from the United States around the world. He not only concentrated on the plans, but paid special attention from the building site to the interiors, designing the furniture, lighting fixtures, stained-glass windows and decorative ceilings. Most of Wright's work was inspired by his appreciation of the simplicity and functionality of Japanese design where large walls of Shoji doors could be pulled back to expose calm gardens that became an integral part of the whole living experience.
During his career, Frank Lloyd Wright created four design styles: Prairie, Textile, Organic and Usonian. Out of these designs have come many of the features we use and love today such as the open floor plan, radiant floor heat, which he began using in 1935, and glass walls and doors.
One of Wright's most interesting homes and a stunning location was built in 1955 in New Canaan, Connecticut in the hemicycle, or horseshoe shape. Tirranna, the native American word for running water, encompasses 7,000 square feet of living space on the Noroton River and a waterfall along with 15 heavily wooded acres.
In recent years, Tirranna was owned by memorabilia mogul and philanthropist Ted Stanley and his wife, Vada, who carefully restored the home's original gardens and replaced any previously sold loose items designed by Wright with reproductions. The home's most striking feature is the curvature of Tirranna and its glass walls which offer a panoramic view of the Noroton River and a dramatic waterfall.
Unusual for Wright in its amenities and more adapted to busier lifestyles, larger families and need for more guest space, there is a rooftop observatory with telescope, a caretaker's suite, a guest studio, gold-leaf chimneys and the master suite has his-and-her baths. Overall, there are seven bedrooms and nine baths. Also included are a large barn, swimming pool patio, tennis courts and sculpture paths to the river's edge.
With the death of his parents, Ted and Vada's son, Jonathan, listed the property for sale with all the proceeds to be donated to charity. Tirranna, originally priced at $8 million has been reduced to $7.2 million. Doug Milne of Houlihan Lawrence in New Canaan, Connecticut is the listing agent.
Visit TopTenRealEstateDeals.com for more historic, celebrity and spectacular homes and real estate news.