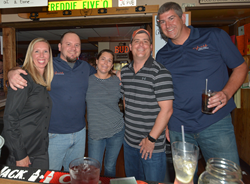 "A strong commitment to community plays a key role in our company culture," stated Jodi Taylor Refosco, Owner. "It strengthens our team and benefits the Deep Creek Lake area as a whole."
McHenry, Maryland (PRWEB) June 01, 2017
Taylor-Made Deep Creek Vacations & Sales is a leading vacation rental and real estate firm located in McHenry, MD. With a strong commitment to the local community, their team is involved in a wide variety of charitable activities through sponsorship, donations and volunteer work throughout the year.
In May of 2017, Taylor-Made owners and members of the Deep Creek Lake real estate team broke out their bartending skills to host a Guest Bartender Night at JG's Pub to benefit HART for Animals, a local non-profit with a mission to improve the condition of animals in Western Maryland. Their adoption center has become a model for compassionate animal rescue.
Lots of members of the Taylor-Made Deep Creek staff were on hand as servers or to help with the silent auction and raffles. The company has partnered with Kate and Fred Collins, JG's Pub owners, on this event for over ten years. They are always happy to roll up their sleeves for HART for Animals. The event was a huge success raising over $2,300.
Later that month, staff stepped-up to support the Adopt-A-Road program in Garrett County. Members of every department at Taylor-Made volunteered their time to pick up litter prior to the busy summer season on the four "adopted" roads.
"A strong commitment to community plays a key role in our company culture," stated Jodi Taylor Refosco, Owner. "It strengthens our team and benefits the Deep Creek Lake area as a whole."
Taylor-Made is family owned and operated by Jodi Taylor Refosco, her husband, Joe Refosco, and her brother Chad Taylor. Betsy Spiker Holcomb and Jay Ferguson are co-owners of the real estate company that was started in 2014.
With over 370 homes, Taylor-Made is the largest vacation rental management company at Deep Creek Lake. Their sister Deep Creek Lake real estate company has become the fastest growing brokerage in the area in recent years.
About Taylor-Made Deep Creek Vacations & Sales
Taylor-Made Deep Creek Vacations & Sales has become a frontrunner in Deep Creek Lake vacation rentals, real estate, and property services. Taylor-Made rental homes and sales listings are conveniently located within a few hour's drive from Pittsburgh, Baltimore, and Washington, DC.