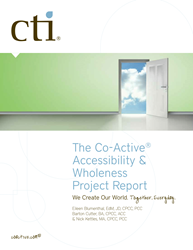 CTI holds that each person is naturally creative, resourceful and whole, and, that everyone is a leader.
San Rafael, Calif. (PRWEB) June 01, 2017
While doors are opening to people with disabilities, traditional approaches to accommodations can fall short when it comes to creating true engagement. That's among the main findings from the "Co-Active Accessibility and Wholeness Project" (CAWP) Report released by The Coaching Training Institute (CTI).
Though the report focuses on the coaching and leadership development industries, its findings will also broaden the horizons of organizations that seek to leverage the talent of people with disabilities.
The project has three primary objectives aimed at advancing the leadership of people with disabilities at every level of society:

To promote and advance the implementation of industry-wide standards for accessibility and accommodation for all people;
To reveal unconscious bias about disabilities and shift those perceptions to unlock the full potential of individuals and groups when disability is present;
To provide tangible examples of how CTI's Co-Active Accessibility and Wholeness Project has served coach training students of all abilities.
"The report summarizes the initial findings of work to bring accessibility and inclusion to the field of coaching and leadership development," explains Barton Cutter, Accessibility Consultant for CTI and who has Cerebral Palsy himself.
"One of the findings is a fresh approach to designing accommodations that meet the accessibility challenges of an individual while also deepening and enhancing the learning process for all."
"The impact," adds Cutter, "is shifting the conversation from one of simply attempting to make the able-bodied world accessible to people with disabilities, which can unnecessarily emphasize apparent deficits; to one focused on how the learning experience of all can be enriched by unique perspectives."
John Vercelli, CTI's Co-President comments: "CTI holds that each person is naturally creative, resourceful and whole, and, that everyone is a leader.
"The Project demonstrates our commitment to these beliefs," he added. "In practical terms, we are supporting individuals who are willing to take responsibility for the world around them, by developing their coaching and leadership skills. This hold true regardless of disability or perceived challenge."
To further communicate the message of the report, Cutter and his colleague Eileen Blumenthal, Co-Director of Coach Training at CTI, will make a presentation entitled: "Creating Mutual Inclusivity: the Art of Making Coach Training Accessible to Students with Unique Abilities," at the Association of Coach Training Organization's (ACTO) 2017 international conference, June 8-10, in Toronto, Ontario, Canada.
About CTI:
CTI® (also known as The Coaches Training Institute ®), is the largest in-person coach training school in the world. With more than 50,000 people from more than 100 countries, trained worldwide, including employees of upwards of half the Fortune 500, CTI's transformative learning programs successfully demonstrate coaching as a core leadership competency.
The book, Co-active Coaching, is the most popular book on coaching, often used by other coach training programs too, and is now in its third edition. With 100,000 copies sold, it's been published in more than 10 languages worldwide.
-END-