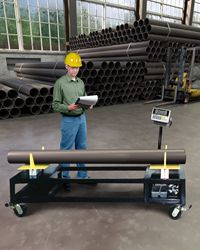 Canton, MA (PRWEB) June 05, 2017
Alliance Scale, Inc. has introduced new custom manufactured portable rack scales for weighing pipe or bar stock up to 12,000 lbs. inside a facility or at a construction site and accumulating the data.
Alliance Portable Rack Scales feature a rugged steel frame, pipe carriages, locking wheels and casters, and are equipped with a CAS CI-201A weighing indicator with a full keypad, an LCD display, and accumulation counting. Combining weigh, count, and transport functions, these rack scales can be custom designed and built for weighing pipe or bar stock up to 12,000 lbs.
Featuring a 6-digit 1" LCD with 10 numeric-, two function-keys and an RS232 interface, the CAS CI-201A weighing indicator on Alliance Portable Rack Scales provides 0-2 mV/V zero calibration and 2 µV/V input sensitivity with A/D internal resolution of 1/520,000 and A/D external resolution NTEP up to 10,000D, non-commercial up to 30,000D. It operates on 6 VDC battery or AC.
Alliance Portable Rack Scales are priced from $3,995.00 up, depending upon configuration. Price quotations are available upon request.
Alliance Scale, Inc. is a value-added distributor for major manufacturers of industrial scales and weighing systems. The firm supports and supplies a wide range of scales for industrial, commercial, grocery, retail, research, and laboratory applications including software and printers. They sell and service scales ranging from portable pocket scales to counting and portioning scales, bench scales, industrial floor scales, in-motion checkweighers, on-board weighing systems, crane scales, floor scales, mixing and portioning scales, and sophisticated weighing systems for motor homes, trucks and railcars. Alliance Scale also serves the grocery and retail trades directly and offers a complete label service for both stock and custom labels.
For more information contact:
Alliance Scale, Inc.
Raymond A. Secour, Jr., Marketing
1020 Turnpike St. / P.O. Box 509
Canton, MA 02021-0509
(800) 343-6802 FAX (781) 828-9510
e-mail: ray(at)alliancescale(dot)com
http://www.alliancescale.com