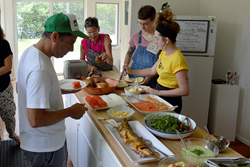 New York, NY (PRWEB) June 07, 2017
Today the Robert Rauschenberg Foundation announced an open call for applications to be the 2018 Chef-in-Residence at its artist residency program in Captiva Island, Florida.
Inaugurated in 2016, the Chef-in-Residence (CIR) program at the Rauschenberg Residency is an annual opportunity for a chef to participate in an active artist community while also pursuing their own culinary interests and research.
"The Chef-in-Residence program was inspired by Robert Rauschenberg's personal commitment to the environment and his keen interest in food, collaboration, and community," said Ann Brady, director of the Rauschenberg Residency. "We see the CIR as a creative partner in the residency experience – they are nurturing the artists and helping us build community."
The Chef-in-Residence is responsible for preparing eight meals a week for the artists-in-residence, maintaining the Residency's zero waste goal, and integrating produce grown on-site. The CIR has the option to hold community workshops, cooking classes for the artists, and utilize the studio facilities for their own creative pursuits while in residence.
Located on influential American artist Robert Rauschenberg's former property on Captiva Island, Florida, the Rauschenberg Residency welcomes over 60 artists and creative thinkers each year to live and work in a highly collaborative, interdisciplinary environment. The property spans 20 acres and includes nine buildings, a 3,600-square-foot vegetable garden, and 12 beehives.
"Being the Chef-in-Residence allowed me space, time, and freedom to dive into my craft wholeheartedly. Without the traditional pressures of a commercial kitchen, I was able to explore various cuisines, local ingredients, and southwest Florida," said Shuna Lydon, a Brooklyn-based chef and the inaugural Chef-in-Residence in 2016. "It was a magnificent opportunity to go deeper into my own practice, connect with local farmers, and develop friendships with profoundly interesting artists." 
Applications for the 2018 Chef-in-Residence are being accepted now through August 1, 2017 and will be reviewed by an anonymous jury which includes accomplished chefs and noted leaders in the arts. Chefs from all over the world and at all stages of their careers are encouraged to apply. The position is for one year, from January 2 – December 21, 2018.
For more information about the position and the application process, please visit: http://www.rauschenbergfoundation.org/residency/chef-residence
About the Rauschenberg Residency
One of the few artists' communities in the world where the founding artist lived and worked, the Rauschenberg Residency is inspired by Robert Rauschenberg's formative years at the experimental Black Mountain College. Each year over 60 artists are invited to come to Rauschenberg's former home and studio on Captiva Island, Florida, to advance their work. Learn more at: http://www.rauschenbergfoundation.org/residency
About the Robert Rauschenberg Foundation
The Robert Rauschenberg Foundation fosters the legacy of the life, artistic practice, and activist philosophy of one of the most important artists of the 20th century. Through exhibitions, scholarship, grants, and a residency program, the Foundation furthers Rauschenberg's belief that art can change the world. Learn more at: rauschenbergfoundation.org/
Media Contact: Megan Canning, media(at)rauschenbergfoundation(dot)org, 212-228-5283