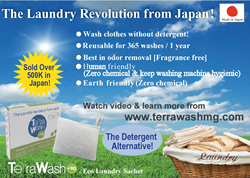 "We are so excited to represent Terra Wash+Mg® in North America. There's no other product like this on the planet. It truly is unique to the marketplace and highly innovative. It cleans better than my natural laundry cleaner, its way cheaper and easier to
Toronto, Canada (PRWEB) June 01, 2017
"We are so excited to represent Terra Wash+Mg® in North America. There's no other product like this on the planet. It truly is unique to the marketplace and highly innovative. It cleans better than my natural laundry cleaner, its way cheaper and easier to use. The fact that it's naturally anti-bacterial, non-toxic with zero synthetic chemicals, keeps the washing machine hygienic, and low cost per wash are big positives for consumers. To top it off it is designed and manufactured to exceptional Japanese quality standard" states Mark Doyle, President of Marketscape Inc., the exclusive North American Agent with sales offices and distribution in USA and Canada.
Over 500,000 units of Terra Wash+Mg® units have already been sold in Japan upon its launch.
According to the Manufacturer, "Terra Wash+Mg® is comprised of highly purified mineral pellets that are specially processed with Japanese innovative technology. When Terra Wash+Mg® is immersed in water it generates bubbles of hydrogen to form ionized alkaline water with increased PH level of approximately 10.5. This makes it easy for water to naturally remove dirt, sebum, germs, bacteria and odor from fabrics, resulting in fresh, safe and clean laundry every time. Third party lab tests show Terra Wash+Mg® is 10 times stronger in removing odor than detergent. For those people with children, allergies or skin sensitivities, it's perfect due to zero chemical fragrances and zero synthetics."
Terra Wash+Mg® is marketed globally as the most natural and healthiest way of washing your clothes.
For more information on Terra Wash+Mg®, please inquire at info(at)marketscape(dot)ca.