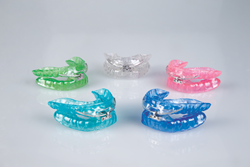 Dallas, TX (PRWEB) June 01, 2017
Airway Management, the leader in oral appliance technology for treating sleep disordered breathing, announces the dreamTAP + program. The program allows authorized TAP laboratories to combine innovative and popular splint technology with dreamTAP hardware. The Dentist Clinician can choose from numerous tray options for their dreamTAP appliance for excellent fit and function, while enjoying the efficacy of the proven dreamTAP hardware.
All the dreamTAP + devices are FDA cleared and approved for Medicare reimbursement. Features include legendary TAP single point adjustment, custom Cr-Co hardware, massive 15mm of protrusion range, 10mm lateral excursion and the force spreader bar.
Check out many of the dreamTAP + versions at laboratory booths exhibiting at the AADSM conference in Boston.
Glidewell Laboratories - Booth #716: dreamTAP with custom thermoformed from BPA-free, nonallergenic hard copolyester in clear or turquoise or hard/soft copolyester and polyurethane discs, in clear, blue, green, and pink.
Great Lakes Orthodontics - Booth #618: dreamTAP Rhea is a combination of unique heat-softening and splint materials. It provides an accurate fit, exceptional retention, and improved patient comfort.
Device Masters Dental Laboratory - Booth #634: dreamTAP BruxEase features a traditional heat-cured hard acrylic that is both relineable and bondable, with the added advantage of possessing slight flexibility for draw and fit.
Dental Prosthetic Services - Booth #311: dreamTAP Durasplint is a highly accurate, custom chairside fit that self-adjusts in the mouth. MMA-free to eliminate allergy issues and Amine-free to never yellow.
Dental Services Group - Booth #317: dreamTAP Brux-eze® is constructed of heat-cured elasticized acrylic. Easy to adjust and fit. A DSG client favorite splint for many years.
About Airway Management:
At Airway Management, we are committed to improving the health, well-being and quality of life for people who suffer from sleep-disordered breathing. And we fully support clinicians, health care professionals and laboratory technicians in this endeavor. Our line of TAP Sleep Care oral appliances is the industry leader in the treatment of snoring and sleep apnea.
Contact:
To learn more about dreamTAP and the complete TAP system, please contact Patrick Tessier, Director of Dental Business Development.