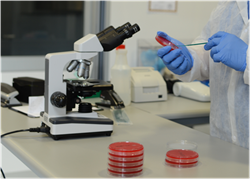 Buffered lidocaine from Edge Pharmacy Services is helping to alleviate the sodium bicarbonate shortage problem for its customers.
Colchester, VT (PRWEB) June 01, 2017
Edge Pharmacy Services has many customers in the hospital, surgery center, and physician office setting who are feeling the effects of the current national sodium bicarbonate shortage. One issue this is creating is the inability to create buffered lidocaine, which is used across a wide variety of specialties including the operating room, dermatology, endoscopy, gynecology, and others. The availability of buffered lidocaine is of particular importance for IV starts when caring for pediatric patients.
To solve this shortage problem Edge is offering its customers premixed buffered lidocaine in a unit dose syringe. With Edge rapidly expanding its production capacity, it has the capability to supply enough buffered lidocaine to support its current customer needs, as well as new customers. Although sodium bicarbonate is used across the medical field for many different applications, a large percentage of it is used in the buffering of lidocaine for everything from operating room anesthesia to biopsies. By offsetting their requirements for sodium bicarbonate specifically utilized in buffering lidocaine, hospitals and other facilities are able to reallocate the sodium bicarbonate to cover their shortage in other areas.
In addition to helping medical facilities in the near-term, premixed buffered lidocaine solves another issue affecting hospitals and clinics, namely compliance with strict state and federal compounding regulations. In many cases by switching to premixed unit-dose products, such as buffered lidocaine, facilities are also able to come into compliance with the USP compounding regulations.
Any medical facilities currently dealing with this or any other drug shortage issues can contact Edge Pharmacy Services to discuss potential solutions.