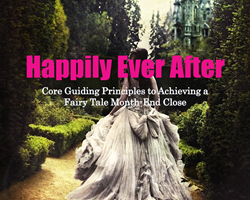 We feel that our spin on the month-end close is an engaging way to learn about an often neglected topic.
New York, NY (PRWEB) June 08, 2017
SkyStem LLC, a provider of automated reconciliation software, today announced the publication of its eBook, Happily Ever After: Core Guiding Principles to Achieving a Fairy Tale Month-End Close. An accessible take on what is often a challenging task for companies – taking on average 40-50% of the working month to complete – the book provides an engaging overview of how to streamline and simplify the process.
Drawing upon SkyStem's extensive experience on the topic and interaction with thousands of accountants, the company has identified the themes that are present in groups that close efficiently. By presenting these themes, as well as the pitfalls to avoid each month, the book provides a comprehensive guide of the principles to adopt to ensure that accounting teams can achieve a fairy tale ending with their work.
"We are thrilled to share our eBook," said Nancy Wu, SkyStem's Head of Sales and Support. "We strive to be thought leaders in the industry and feel that our spin on the month-end close is an engaging way to learn about an often neglected topic. The material is a great asset for any accounting team, and we are looking forward to seeing it help users."
For Wu and the SkyStem team, the key to closing the books confidently and consistently lies in maintaining accuracy, predictability, flexibility, and proactivity. An organization that can keep to these tenets, as the book demonstrates, will be certain to achieve a Happily Ever After close.
The eBook is currently free to use and available to access here.
About SkyStem LLC
Headquartered in the heart of New York City, SkyStem delivers a powerful close and account reconciliation application for organizations seeking to streamline their financial processes. The company's flagship solution, ART, is an enterprise technology that helps CFOs and Controllers shorten the month-end close and the time to issue financials by automating balance sheet reconciliations, managing month-end tasks, and providing insightful reporting. The web-based solution streamlines and eliminates up to 90% of manual activities while strengthening internal controls and corporate governance.