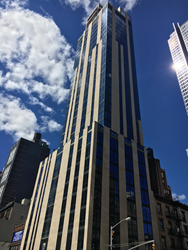 New York, NY (PRWEB) June 01, 2017
Hyatt and Lexin Capital, as developer and owner, are pleased to announce the debut of Hyatt House New York/Chelsea, a 150-room extended-stay hotel situated at the center of Chelsea's historic Flower District. The 30-story new-build property is the first Hyatt House hotel to open in New York City. The hotel provides the comforts of home with contemporary touches including floor-to-ceiling windows, loft-like guestrooms, custom furniture pieces, apartment-style kitchen suites, abundant outdoor space, and sweeping views of the city's skyline. The hotel is perfect for travelers on a quick New York City getaway or business trip, as well as those looking for a premium extended-stay experience.
"We are thrilled to open our doors, inviting travelers from around the world to experience the first-ever Hyatt House hotel in New York City," says Metin Negrin, founder and president of Lexin Capital. "Our urban interpretation of the Hyatt House brand will meet the needs of today's sophisticated traveler. We went to great strides to create a hotel that is comfortable, intuitive and welcoming."
"We are proud to serve as the operator for the Hyatt House brand's first New York City property," said Ben Seidel, president and CEO of Real Hospitality Group. "This dynamic hotel aligns itself seamlessly with the vibrancy of Chelsea. The location, within close proximity to historic landmarks like the Empire State Building, transportation hubs of Grand Central Terminal and Penn Station, and attractions like Madison Square Garden, makes the hotel an ideal location for travelers coming to Manhattan for business or pleasure."
Design and Guestrooms
Nestled at the corner of 6th Avenue and 28th Street, Hyatt House New York/Chelsea was designed by Nobutaka Ashihara Architect PC. The hotel showcases a strong, vertical expression complemented by clean lines and a glossy, slender facade standing 30 stories high. The exterior design is inspired by the many vertical structures in Manhattan. A soft limestone color contrasted with light blue tinted glass achieve a sense of harmony, creating a striking blue look to the exterior.
Ranging from 270 square feet to 510 square feet, the hotel's 150 spacious guestrooms feature studio and one-bedroom configurations, with 74 rooms featuring kitchenettes complete with stainless steel appliances. All rooms are furnished with a refrigerator and a microwave oven. Guests can also enjoy comfortable furnishings, plush couches, 43-inch or larger flat panel televisions and dedicated workspaces. The beautiful floor-to-ceiling windows found in every guestroom allow for natural light to pour in, providing striking views of Manhattan's skyline. Select one-bedroom suites feature private balconies. An understated color palate consisting of chocolate soft gray and ivory hues, are complemented with floral artwork throughout all guestrooms, evoking themes of Chelsea's Flower District.
Communal washers and dryers, as well as 60 connecting units for families and groups, are also available for those on an extended stay, further providing the comforts of home. The property's 18 one-bedroom suites feature their own in-room washer/dryer units as well as pull-out sofa beds in separate living room areas in select rooms.
A standout design element of Hyatt House New York/Chelsea is its 30th floor open-air rooftop recreational area featuring striking views of Manhattan including the Empire State Building, Chrysler Building, One World Trade Center, and the Statue of Liberty. The 800-square-foot area is for guests to lounge and take in the city's sights; it may also be rented for private events of up to 50 people. The 30th floor also features a 24-hour indoor fitness center.
Dining
Numerous food and beverage options are on the hotel's second floor at the H BAR, a centralized gathering space that offers guests the complimentary Morning Spread featuring the brand's signature build-your-own Omelet Bar and assorted Breakfast Breads + Bowls Bar with steel-cut oatmeal, fresh fruit and more, along with vegetarian and gluten free options. In the evenings, the H BAR transforms into an intimate setting with delicious home-cooked comforts as well as creative cocktails, beer and wine. The H BAR can also be rented out for mid-day events and functions. The 1,400 square foot lounge space located on the hotel's second floor features city views and can accommodate groups up to 75 people.
The 24-hour H MARKET, which is located on the ground floor, is accessible for everyday items including gourmet groceries, fresh salads, snacks, and sandwiches, in addition to "ready meals." With the hotel's Very Important Resident (VIR) program, House Hosts provide complimentary grocery shopping service and stock kitchens with preferred items for extended-stay guests. The ground floor will feature 2Beans, a high-end chocolate and espresso shop, expected to open this month.
In early summer 2017, the hotel will debut a 1,300-square-foot outdoor space on its 11th floor. This space will provide guests and locals alike an intimate spot above bustling 6th Avenue featuring light bites as well as a lengthy cocktail, wine and beer list. This space can also be booked for semi-private events.
The 2017 rates at Hyatt House New York/Chelsea start at $329 per night and go up to $2,900 per night during peak season. For more information, please visit newyorkchelsea.house.hyatt.com, or follow Hyatt House New York/Chelsea on Facebook or Instagram.
About Hyatt House
Hyatt House, a brand of Hyatt Hotels Corporation, launched in 2012 and offers more than 70 locations throughout the United States, China and Puerto Rico. Inspired by extensive research into guest experiences, Hyatt House hotels offer services, amenities, upscale spaces and a casual, comfortable environment that reminds guests of home. For more information, please visit hyatthouse.com. Join the conversation on Facebook, and tag photos with #HyattHouse and #WhySettle.
About Lexin Capital
Founded in 2002 by Metin Negrin, Lexin Capital is a private investment, management and development company that manages its own capital along with a global client base and makes direct investments into real estate. With a sense of ownership in everything they do, the firm is active in select development projects as well as value added real estate transactions that may include renovations, marketing and leasing vacant space and sale. The firm has a data driven decision making approach and stays current to property and capital markets which shape its strategic choices. The company also has experience in managing distressed debt situations with real estate, direct investments in income producing assets and real estate securities. For more information on Lexin Capital, please visit http://www.lexincapital.com.
About Real Hospitality Group
Real Hospitality Group (RHG) is headquartered in Ocean City, MD with offices in Midtown Manhattan in New York City, and comprises a team with decades of combined hospitality and travel industry experience. The Real Hospitality Group portfolio includes 75 hotel properties with an inventory of more than 9,152 rooms in gateway cities that include New York, Philadelphia, Miami, Boston and locations in Newark, Wilmington and Rehoboth Beach, DE; as well as Montauk, New York, and Ocean City, MD. The company is a recognized service provider for all national brands as well as a growing collection of upscale lifestyle boutique hotels. RHG focuses on comprehensive development management services, revenue performance, guest experience and business development for hotels, resorts and investment ownership groups. For more information, please visit the company website at http://www.realhospitalitygroup.com.
FORWARD-LOOKING STATEMENTS
Forward-Looking Statements in this press release, which are not historical facts, are forward-looking statements within the meaning of the Private Securities Litigation Reform Act of 1995. Actual results, performance or achievements may differ materially from those expressed or implied by these forward-looking statements. In some cases, you can identify forward-looking statements by the use of words such as "may," "could," "expect," "intend," "plan," "seek," "anticipate," "believe," "estimate," "predict," "potential," "continue," "likely," "will," "would" and variations of these terms and similar expressions, or the negative of these terms or similar expressions. Such forward-looking statements are necessarily based upon estimates and assumptions that, while considered reasonable by the issuer of this release, are inherently uncertain. You are cautioned not to place undue reliance on any forward-looking statements, which are made only as of the date of this press release. Neither the issuer of this release nor any other entity associated with it or its subject matter undertakes any obligation to update publicly any of these forward-looking statements to reflect actual results, new information or future events, changes in assumptions or changes in other factors affecting forward-looking statements, except to the extent required by applicable law. If one or more forward-looking statements is updated, no inference should be drawn that any additional updates will be made with respect to those or other forward-looking statements.