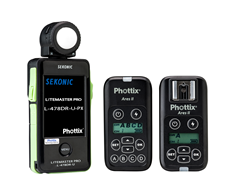 We love it when two manufacturers come together to create something truly valuable for photographers at an amazing price.
North White Plains, NY (PRWEB) June 06, 2017
As part of their ongoing Lighting Alliance, Sekonic and Phottix are making it easier than ever for emerging photographers to enter the world of off-camera lighting with wireless metering and triggering.
It's like getting a free set of triggers!
The feature-rich Sekonic Litemaster Pro L-478PX-U meter for Phottix and the powerful and reliable Phottix Ares II Remote Flash Trigger and Receiver Set are now available for $399.00; the same price as buying the meter alone.
"We love it when two manufacturers come together to create something truly valuable for photographers at an amazing price. This bundle is a great starting place for anyone looking to understand and control light regardless of what gear they own." said Jan Lederman, President of MAC Group, the US Distributer for Sekonic and Phottix.
Add wireless triggering and metering to almost any flash or strobe
Thanks to the universal connectivity of the Ares II via the 3.5mm port or using the built in hot-shoe on the Ares II receiver, this bundled wireless ecosystem allows photographers to add wireless triggering and metering to almost any flash or strobe. Now, photographers shooting within different genres can truly explore lighting possibilities, create specific lighting styles and make their results repeatable regardless of the equipment they currently own. The universal compatibility of this kit means this system is future proof and will also grow with the photographer as their skills and lighting needs evolve.
Sekonic Litemaster Pro L-478PX-U Key Features
Wirelessly Trigger and Measure Any Flash
Simply connect almost any studio strobe or speed light to Phottix's Ares II, Strato, Strato II Receiver or Atlas Transceivers and gain the ability to wirelessly trigger directly from the meter regardless of the brand of light.
Built-in Compatibility with the Phottix Lighting Ecosystem
The L-478PX-U can wirelessly trigger the Indra 360TTL, Indra 500TTL, and Mitros+ flashes when set to Strato II Mode with no additional equipment.
Save Your Measurements and Trigger up to Four Groups
Allows you to record and store distinct readings per group to quickly compare readings, determine lighting ratios, and efficiently switch between different setups.
Additional Cine and HD Cine Metering Modes
These modes give photographers also shooting video access to frame rate selection from 1-1,000 fps as well as shutter angle settings from 1-358° as well as ISO 850 for Canon cinema cameras.
Phottix Ares II Key Features
LCD Display on Transmitter and Receiver
Makes setting up even the most complicated lighting designs fast and easy.
16 Channels and 4 Groups
Quickly and easily organize lights and eliminate interferences from other radio sources.
Digital ID Function
Secure the connection between the transmitter and lights when shooting in crowded situations to avoid miss fires and confusion.
150m Range
Allows you to go past the line of sight and have full creative freedom when placing lights.
3.5mm Cable and Adapter
Makes the Ares II compatible with most studio lights. Sekonic L-478DR-PX Compatibility Perfect for manual shooters and anyone looking to control light and develop distinct lighting styles.
Pricing and Availability:
Sekonic Meter and Phottix ARES II Bundle (Cat# 401-476ARESII) - $399.00
Available in the US Only
About Sekonic:
Sekonic Corporation, based in Japan, provides the widest range of light measurement devices for photographers around the world. Established in 1951, the first Sekonic brand exposure meter introduced was the revolutionary Sekonic P-1. In 1984, the Sekonic Digipro X-1 and L-518 meters were taken into space on the NASA Space Shuttle. With more than 60 years of expertise, Sekonic continues to produce and develop meters for the film, video, cinematography and digital photography markets.
About Phottix:
Since its inception by a small group of like-minded photographers Phottix has been on the cutting-edge of innovation and excellence in the photographic industry. From the landmark Phottix Odin™ TTL Flash Trigger to the Phottix Indra360 TTL Studio Light, 2016's TIPA Award-winning Best Professional Flash System, Team Phottix has and continues to develop new technologies while adapting existing technology with the feedback of photographers. Phottix's current flagship trigger, the Odin II, was developed based on the input from professional and semi-professional photographers from around the world.
The Phottix track record speaks for itself. Holder of 40 patents, in the last five years Phottix has become a dominant force in the photography industry. Working with Lighting Alliance partners Elinchrom and Sekonic, the next generation of lighting solutions are being developed. There are some amazing technologies on the horizon for photographers. For additional information, please visit phottixus.com
About MAC Group:
MAC Group is a sales, marketing and distribution company dedicated to supplying photographers, videographers, educators and students with the world's finest image-making tools, education and inspiration. For more information on the MAC Group, please visit: http://www.MACgroupUS.com
Contact: For review and marketing opportunities with in the US, please contact Jeff Lazell, Sekonic Brand Marketing Manager at their US Distributer MAC Group.
Email: Jeffl(at)macgroupus.com