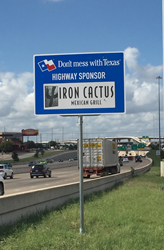 San Antonio, TX (PRWEB) June 06, 2017
Texas Sponsor A Highway® (TSAH) is pleased to announce that the first sponsorship signs have officially been installed in San Antonio! TSAH is proud to be partnered with so many local businesses and organizations in San Antonio, as well as other major metropolitan areas throughout Texas.
Businesses that were first to join the program in San Antonio include: Kidd Roofing, Buyers Barricades Inc., Continental Tire the Americas LLC, Iron Cactus, Belfor Property Restoration, Cavender's, Higdon, Hardy & Zuflacht LLP Family Law, Prestige Emergency Room, C4 Construction Services, PAX Financial Group, and Simmonds Real Estate.
Texas Sponsor A Highway® is a new statewide program that gives businesses and organizations the opportunity to sponsor highway maintenance and litter removal in the Austin, Houston, Dallas, Fort Worth and San Antonio areas. Each city has its own unique opportunities and sponsorships are available on a first-come first-served basis. The business climate in these areas is booming and now is the time to select your prime locations before they are no longer available.
Benefits of the program include: exclusivity, enormous reach, brand awareness, 24/7 exposure, and positive community relations. Texas Sponsor A Highway® is one of the only ways to put a company's name and logo on some of the busiest highways in Texas. A business or organization will reach up to 50 million cars per year, building its brand through frequency and visibility. The program is cost-effective, and each business will gain positive exposure for its commitment to the community by keeping Texas roadways safe and looking beautiful.
With the help of local businesses and organizations, the Texas Sponsor A Highway® Program has been serving its local communities with litter removal & highway maintenance along some of the state's busiest highways since 2015.
For information about available areas and roadways, please contact Romeo Perez.
Phone: 512-351-3022
Email: Romeo(at)adoptahighway(dot)com