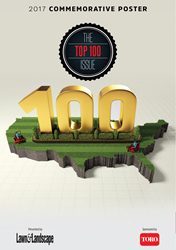 The industry requires increasing levels of sophistication and innovation as landscape companies have accepted greater responsibility for not only creating beautiful landscapes, but also promoting sustainable resource management, protecting the environment
Santa Clarita, CA (PRWEB) June 05, 2017
Southern California landscape industry leader Stay Green Inc. has once again been named to Lawn and Landscape Magazine's list of the Top 100 landscaping companies in North America.
"As a family-owned business, we're very proud to be included among the top businesses in our industry,'" said Stay Green CEO Chris Angelo. "It represents the hard work, dedication, skills and knowledge of our entire team of more than 350 people in eight counties throughout Southern California."
Lawn and Landscape has released the Top 100 list annually for the past 20 years, and Stay Green has appeared on the list multiple times in recent years. With 2016 revenue of $21.4 million (representing a 9 percent increase from 2015), Stay Green is ranked No. 89 on this year's list, up three spots from the previous year.
Stay Green is one of 14 California-based companies on the list – the most of any state. All told, the 100 companies on the list generated $9.16 billion in revenue in 2016, an increase of 6.9 percent from the prior year. The list, which ranks companies based on revenue from landscape profit centers, includes companies from 26 states as well as four from Canada.
"The overall picture of our industry is encouraging. Not only is it growing, but it's also changing in exciting ways," Angelo said. "The industry requires increasing levels of sophistication and innovation as landscape companies have accepted greater responsibility for not only creating beautiful landscapes, but also promoting sustainable resource management, protecting the environment and dealing with issues like droughts and invasive pest species. The Lawn and Landscape Top 100 list is reflective of these trends."
In the written introduction to the Top 100 report in the magazine's May issue, David Alkire, a vice president of list sponsor Toro, said the companies included on this year's list represent the best of the industry.
"The stories in this issue are a perfect example of how the choices you make can lead to vibrant futures, and we congratulate all of this year's landscape companies on their continued success," Alkire said. "We take pride in supporting this opportunity to recognize leaders in the field whose stories inspire us all. Success truly is contagious when you surround yourself with positive examples, and you'll find them in this report."
To read the Lawn & Landscape Top 100 report, visit: http://magazine.lawnandlandscape.com/issue/may-2017
About Stay Green
Founded in 1970, Stay Green Inc. (http://www.staygreen.com) provides award-winning landscape maintenance, tree care, and plant health care services for premiere residential, commercial and industrial properties throughout Southern California. Stay Green serves clients throughout Southern California, and exercises environmental stewardship through its Sustainability Practices, which are applied across all service lines to help customers protect the environment as well as the bottom line. Stay Green Inc. is recognized as a leading provider of high-quality landscape services, having achieved a 95 percent customer retention rate, along with receiving the industry's most prestigious awards.