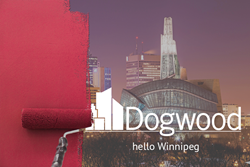 Businesses thrive on identifying problems and then taking massive action to solve them.
Winnipeg, BC (PRWEB) June 06, 2017
Service First - Who is Dogwood?
It's been said that change is the only constant. Jason Smith, founder and President of Dogwood Ltd., agrees. His organization has risen quietly over the last 10 years, weathering numerous industry changes and the economic challenges of 2008, to stand at the forefront of the commercial renovation and contracting sector, steadily crafting a new vision for the role of a contracting company.
From small-town beginnings to a nation-wide presence, Dogwood is leading a wave of change that is re-creating the way commercial contracting gets done. Industry titans like Apple, Best Buy, Indigo/Chapters, Shell, McDonald's and Starbucks are re-envisioning their approach to managing facility maintenance, and have partnered with Dogwood to access the company's "service first" partnership approach to business.
Different Spaces at Different Paces
Executing on an ambitious growth strategy, Dogwood has opened branches Canada wide across the past decade. While steady, incremental growth like this is fundamentally good for an organization, it also presents many challenges and sheds light on the spaces where a market is being under-serviced.
The Central Canadian Provinces have historically received a lower than average level of Service quality in the commercial maintenance and renovations sector. This makes it more challenging for them to establish the kind of long term relationships with contractors that builds trust and facilitates a more productive and mutually beneficial kind of business arrangement. After identifying this gap, Dogwood has taken action to bridge the divide between East and West by opening a new branch in the City of Winnipeg, with a focus on bringing the same levels of excellence traditionally reserved for major East or West Coast hubs to the Central regions.
"We've actually had people working in Manitoba for years," says Jason Smith, Dogwood's CEO and founder, "and I think it's become clear that the whole province is being short-changed overall, particularly in some of the outlying regions, when it comes to getting the same high level of service that places like Vancouver or Toronto are used to seeing. That's been one reason for Dogwood's success in the region – our teams really stepped up to the plate when it comes to taking care of brands and business there."
Vision and Mission
The launch of a new branch location is a good indicator of a company's motivations, stability and direction. For Dogwood's leadership team, launching a Winnipeg branch is a manifestation of their Vision – "committed to building life-time clients through service, accountability, innovation, quality and sustainability."
Nikko Ruffini, Dogwood's Brand Manager reflects on this principle –"I don't think there's any doubt that for most organizations, a Vision Statement is nothing more than a well-polished but unused sentence that sits on a boardroom wall. We don't do that. For us, it represents the spirit of what we do. Investing in new branch locations is a great example of this Vision translating into reality; it's a costly undertaking, but one that's absolutely necessary for delivering our promise to the market and the people we serve."
Businesses thrive on identifying problems and then taking massive action to solve them.
"When we hear frustrations about businesses not being taken care of by their contractors, it's a good indicator that there's a problem and an opportunity to make it right." Says Smith, "So it made a lot of sense to take action and open a formal branch location in Winnipeg. It's very important to us that the people we partner with, our customers, can sleep easy at night knowing that they're in good hands no matter where there store locations are in Canada. Our brand is built on putting Service first; that's our Vision. And it was the driving factor behind this decision."
Visit us at http://www.dogwoodltd.ca to learn more